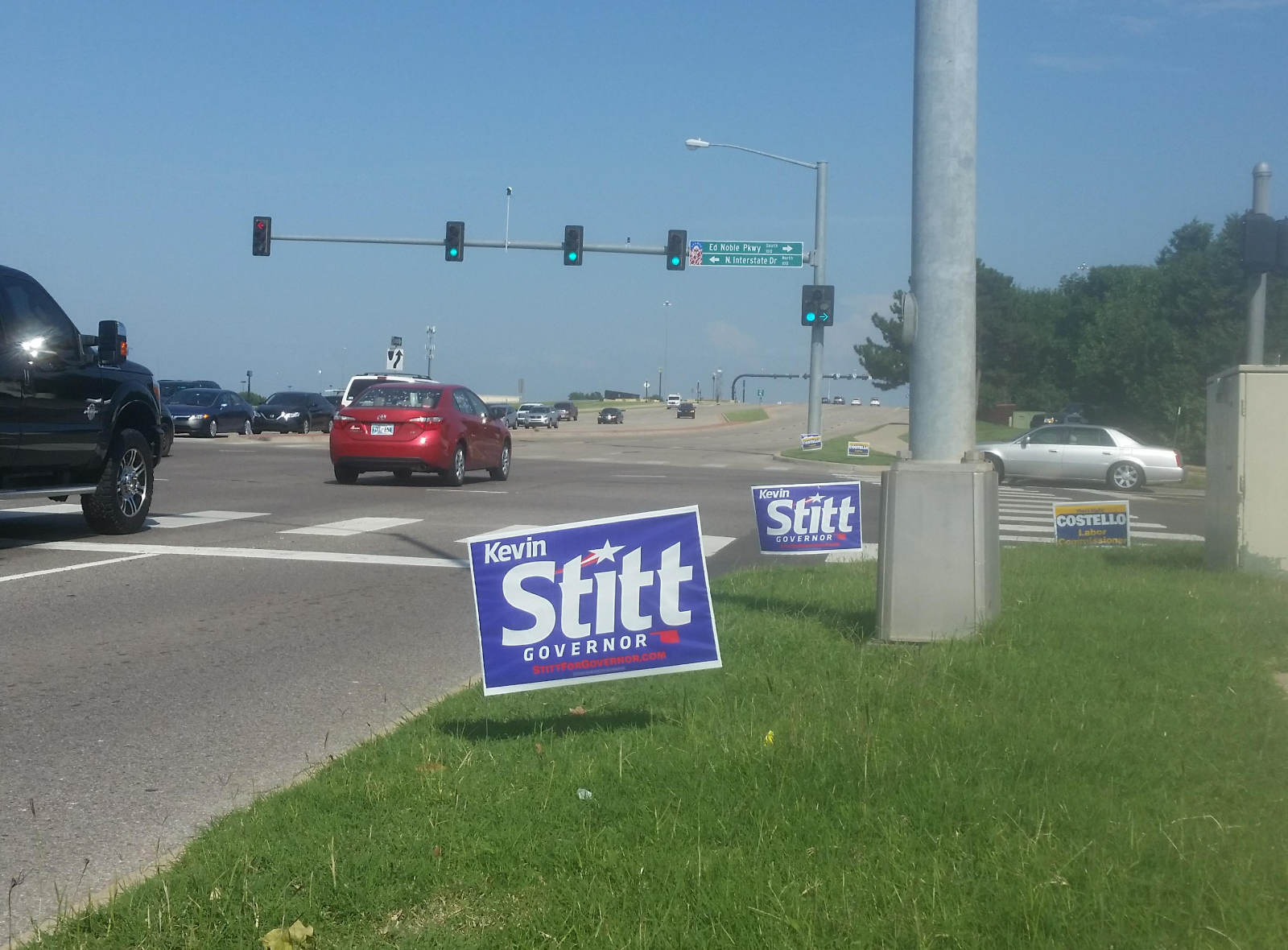 news
Statewide Races and Congressional Seats on Ballot
The U.S. Congress is composed of two chambers. Senators serve six-year terms with only a third of the seats up each election year. Each state has two seats in that upper chamber. Only one of Oklahoma's two U.S. Senate seats is up for election in 2020. Senator Jim Inhofe was reelected in 2014 and his term expires this year. Senator James Lankford was reelected in 2016 and his term will not be up until the 2022 election. All five Oklahoma seats in the U.S. House of Representatives are up each election year since they serve two-year terms. All five incumbents are running for reelection. There are three Oklahoma Corporation Commission seats with six-year staggered terms. So, every two years one of the seats is up for reelection. The seat held by Todd Hiett is up for election this year. Here is a rundown on these races.
U.S. SENATOR
Senator Jim Inhofe, 85, of Tulsa is running for another term. Inhofe has been a conservative leader since his days in the Oklahoma Legislature, as Mayor of Tulsa, his time in U.S. House of Representatives, and while in the U.S. Senate. Inhofe was first elected to the Senate in a special election in1994, and reelected with ease since then. This year he has three challengers for the Republican nomination. There are four Democrats vying for their party's nomination. There is also a Libertarian, and two independents running.
Republican Neil Mavis, 57, of Tulsa is a Wifi Engineer. He is the founder of Business WiFi Solutions, LLC, and has worked 20 years in the telecommunications industry. He previously was a candidate for the U.S. House in 2000 and 2002.
Republican JJ Stitt, 46, of Kingfisher is a 17 year veteran of Law Enforcement and the owner of a retail firearms business. He also manages STITT Farms. He and Gov. Stitt are distant cousins, sharing the same great-grandfather.
John Tompkins, 63, is an Oklahoma City surgeon who is also running for the Republican nomination.
Of the four Democrats running, the best known is Abby Broyles, 30, of Oklahoma City. She began working as a TV News Reporter at age 20, and spent the majority of her TV career at KFOR, the NBC affiliate in Oklahoma City. She recently completed law school, passed the bar, and is opening her own law practice.
Elysabeth Britt, 41, of Oklahoma City is a Human Resources Professional. Her professional life has focused on the newspaper industry, where she served up until candidate filing as a Human Resources Business Partner at Gannett Media, the nation's largest newspaper chain. In 2018 she ran for the U.S. House in Oklahoma's 5th congressional district, where she finished in third place in the Democrat primary.
Sheila Bilyeu, 76, of Freedom is a retired teacher and has been a frequent candidate for office. She says; "My views are much like Bernie Sanders." The remaining Democrat in the race is R.O. Joe Cassity, Jr., 76, of Ponca City.
Robert Murphy, 72, of Norman won the Libertarian nomination for the U.S. Senate in 2016. Since he is the only Libertarian that filed this time, he will be on the ballot in the November General Election. He has run for various other offices in the past, including several races for Congress. He has run as a Libertarian when the party has had ballot status, and in other campaigns as an Independent.
Two candidates filed as Independents and will appear on the November ballot. Joan Farr, 64, of Tulsa is a pre-litigation consultant and legal reform activist. She ran for the seat in 2014. A. D. (April) Nesbit, 39, of Ada is College Professor and Biologist.
U.S. REPRESENTATIVE
District 1
First District (Tulsa area) incumbent Republican Kevin Hern, 58, was elected to the seat in 2018. He replaced Congressman Jim Bridenstine who did not run for a fourth term and was nominated by President Trump to head the National Aeronautics and Space Administration (NASA). Hern is the owner of KTAK Coorporation which owns and operates ten McDonald's restaurants which employs over 400 people in the Tulsa area. No other Republicans filed, but he will be opposed by a Democrat and an Independent in the November election.
There are two Democrats competing for the nomination. Mark A. Keeter, 63, is a Tulsa Businessman and Engineer. He ran for the seat in 2018, and finished in fourth place in the Democrat primary. Kojo Asamoa-Caesar, 33, of Tulsa is the son of immigrants. He is a law school graduate who chose to become a kindergarten teacher.
Independent candidate Evelyn L. Rogers, 67, of Tulsa is a college librarian and perennial candidate. She ran for the U.S. Senate in 2008 and 2014, and six times for a seat in the U.S. House. She has also run for the Oklahoma Legislature.
U.S. REPRESENTATIVE
District 2
The Second District covers 26 counties in eastern Oklahoma, stretching south from the Kansas state line to the Red River border with Texas. After the 2010 census and minor redistricting, the district remains the most Democratic in the state by registration. Congressman Markwayne Mullin, 42, of Westville is running for a another term. Mullin owns Mullin Plumbing which spans much of the state. He also has ranching operations in Adair and Wagoner counties. When he first ran for office in 2012, he said he would serve no more than six years in Congress, but decided run for reelection in 2018. Mullin, who has a generally conservative voting record, was reelected with 65 percent of the vote. Mullin is being opposed for the Republican nomination this time by two other candidates.
State Senator Joseph Silk, 33, of Watson chose not to run for reelection and to instead challenge Congressman Mullin. Silk, who is a Broken Bow Lake resort property manager, said he decided to leave the Legislature because of its "very liberal" leadership. "I have come to the conclusion my energy and efforts will be best … utilized elsewhere." During his time in the Oklahoma Senate, Silk has been known for his strong conservative positions on abortion, gun legislation, and taxes. Silk has a 78 percent cumulative average on the Oklahoma Conservative Index. In 2014, Silk ran in a Special Election to fill a vacant Senate seat, becoming the first Republican State Senator ever elected in Senate District 5, and the youngest member of the State Senate at the age of 27. In 2016, he ran for reelection to a full four-year term and won again.
Also running for the Republican nomination is Rhonda Hopkins, 44, of Rose. In 2016 and 2018 she was a candidate for State Representative. She has worked as a nursing assistant with the Cherokee Nation for the past eight years. Previously she worked as an Intermediate level EMT and a Reserve officer.
Danyell Lanier, 44, of Hugo was the only Democrat to file, and advances to the November election. In 2018, she was the Democrat candidate for Collin County court judge in Texas. She lost the General Election after advancing from the primary.
Libertarian Richie Castaldo, 38, of Afton will also be on the November ballot. As in 2018, he was the only Libertarian to file. He is a street pastor with Grand Lake Life.
U.S. REPRESENTATIVE
District 3
The third district covers most of the north central and northwestern parts of the state, including the panhandle. Long-time Congressman Frank Lucas, 60, of Cheyenne was first elected in a Special Election in 1994. He is the longest serving member among the current Oklahoma Delegation in the U.S. House, and is running for reelection. He is a former State Representative and runs a ranching operation. He is unopposed for the Republican nomination, but will be opposed by a Democrat in the General Election.
Zoe Midyett, 51, of Wellston was the only Democrat to file and will be on the November ballot. In 2006, she took over her favorite feed store, Red Earth Feed & Tack, in Oklahoma City.
U.S. REPRESENTATIVE
District 4
The Fourth District covers much of the south central and southwestern parts of the state. Congressman Tom Cole, 70, of Moore is running for reelection. Cole was first elected to Congress in 2002. While serving in the state Senate back in the 1989-90 time period Cole compiled an 80% Oklahoma Conservative Index score, placing him in the Top Conservatives list. However, his record in Congress has been markedly less conservative. He is being challenged for the nomination by three other Republicans.
James Taylor, 61, of Norman challenged Cole for the Republican nomination in 2016 and 2018. Taylor was one of two Republicans to run against Cole in 2016 and finished in second place to Cole with 18% of the vote. When he ran in 2018 he received 35% of the vote against Cole. Dr. Taylor, who is black, says that he would be much more conservative than Cole. He is a U.S. History teacher and is the former Senior Pastor of Christ's Church in Norman. He is the author of It's Biblical, Not Political, which guides Christian voters on how to vet political candidates to ensure they will follow the Constitution and the intent of our Founding Fathers to limit federal power while protecting the rights of the states and people respectively.
Trevor Sipes, 39, of Moore is a Real Estate Broker, Home Inspector, Remodeler-Investor, and a Photographer. He also spent over ten years in pharmacy management.
Also running for the Republican nominations is Gilbert O. Sanders, 74, of Choctaw. He is a Psychologist and is retired from the Army and the U.S. Public Health Service.
Three Democrats are competing for the nomination of their party. Mary Brannon, 68, of Washington won the nomination in 2018. She is a teacher and school counselor. Brannon received 33% of the vote in the General Election.
David R. Slemmons, 71, of Norman is a retired Librarian, Poet, Actor and Human Rights Activist. He was once the head of the Drama Department at the University of Oklahoma and published a book called Outlaw Poet. He has an MFA in Drama and Master of Library and Information Studies from OU.
John D. Argo, 68, of Norman is the other Democrat running for the nomination.
Advancing to the November ballot will be Libertarian candidate Bob White, 71, of Norman.
U.S. REPRESENTATIVE
District 5
The big news coming out of the 2018 Oklahoma congressional elections was the flipping of the Fifth District seat from Republican to Democrat. Kendra Horn defeated the incumbent, Steve Russell. Oklahoma had not had a Democrat in Congress since 2012. And, for the first time in state history Oklahoma has a Democrat woman to Congress. The Fifth District includes most of Oklahoma, Pottawatomie and Seminole counties in the central portion of the state.
Horn, 43, was a professional mediator and executive director of Women Lead Oklahoma which is a nonprofit organization working to empower women to be leaders and be engaged in civil activities. She had also served as press secretary for former Second District Congressman Brad Carson and previously managed political campaigns. She served as executive director of Sally's List which supports women running for elected office. She lives in Oklahoma City and is a native of Chickasha.
In 2018, Horn won the Democrat runoff with 76% of the vote over Tom Guild who has been a perennial candidate. Guild, 65, of Edmond is the lone Democrat challenger to Horn this year. Guild was the only Democrat to file for the seat in 2012. He ran for the seat two years earlier, losing in the primary. He also lost the Democrat nomination in 2014 and 2016. He taught political science and legal studies at the University of Central Oklahoma for 27 years and three years at Oklahoma City University. Years ago, when he was a registered Republican, Guild made three races for a seat on the Oklahoma Corporation Commission, but lost in the Republican Primary the last two times. He even went so far as to put the word "Reagan" on his campaign signs, and claimed to be a conservative Republican. He now calls himself a Progressive Democrat.
Nine Republicans are competing to return the seat to the GOP, which makes a Runoff Primary Election likely.
State Sen. Stephanie Bice, 46, of Edmond was the first major candidate to announce for the seat. Bice was elected to the Oklahoma Senate in 2014 and reelected in 2018, and serves as Assistant Majority Floor Leader in the Senate and Chair of the Senate Finance Committee. She is credited with modernizing Oklahoma's liquor laws by engineering the first overhaul since 1959 when prohibition was repealed in the state. Since she will be in the middle of her term, she would remain in her Senate seat if she fails in her election bid for Congress. Bice is a RINO (Republican In Name Only) Republican, earning only a 49% cumulative average on the Oklahoma Conservative Index for the five years that she has been in office. At the 2015 Southern Republican Leadership Conference, her speech was more like what one would expect to hear at a Democratic Party event.
Businesswoman Terry Neese, 72, of Oklahoma City became the second major candidate to enter the race, making her announcement the day after Sen. Bice. She declared in her announcement, "I am the clear conservative choice who will help President Trump deliver on his agenda to put America first and get Congress back to doing the work of the people." Neese, is a lifelong Oklahoman and has spent over thirty years finding careers for men and women. She is the founder of Terry Neese Personnel Services (TNPS), National Grassroots Network, Women Impacting Public Policy, and the Institute for Economic Empowerment of Women (IEEW). Neese made history in 1990 as the first woman nominated by a major political party for Lt. Governor of Oklahoma. While she has always touted herself as a conservative, she has no voting record or performance in office by which to gauge that claim.
Former State Superintendent of Public Instruction Janet Barresi, 68, of Oklahoma City ran a successful dental practice for over 24 years. Following the death of her husband in 2009, she and her sons became strong advocates of appropriate mental health treatment, suicide prevention and support for families surviving suicide. After her husband's death she and one of her sons took over the operation of Cosmo Energy. Barresi also became an education reformer and supporter of education choice. She founded two charter schools – Independence Charter Middle School and Harding Charter Preparatory High School, that won numerous accolades for their academic excellence.
Barresi was part of the Republican tidal wave of 2010, becoming the first Republican elected as State Superintendent of Public Instruction. Barresi replaced longtime Democrat Sandy Garrett, who did not seek reelection in 2010. But, controversy seemed to dog Barresi from the time of her election. Democrats, who had long held a virtual lock on the post, took umbrage at a Republican in the office. The State School Board of Education, an enclave of liberal Democrats, immediately challenged Barresi at the very first meeting, which was not surprising. What was surprising was the Republican opposition that developed.
One reason that Barresi faced such opposition, even within the Republican Party, was her strong support for the set of educational standards known as Common Core, which the Republican-dominated Legislature would later vote to repeal. Common Core, praised by Democrat President Barack Obama, is widely considered by conservative activists as an attempt to implement liberal national standards into the public schools, and even in private schools. Many Republicans were also shocked when Barresi made the former chief lobbyist for the Oklahoma Education Association (OEA) her chief of staff.
Barresi ran for reelection in 2014, but lost in the Republican primary. Joy Hofmeister was the winner of the Republican Primary with 58% of the vote. Brian Kelly actually finished slightly ahead of Barresi with just over 21%. Kelly ran for the office in 2010, and had lost to Barresi in the Republican Primary. Hofmeister, who opposed Common Core, went on to win the post.
Edmond businessman David Hill, 52, announced his candidacy last October. "Nancy Pelosi and the career politicians in Washington have taken us down the wrong path. They want socialized medicine, open borders, higher taxes, bigger government, and a complete elimination of our First and Second Amendment rights. They have launched a 'Green New Deal' that threatens to shut down our energy industry and tank our entire economy," said Hill.
Hill has extensive experience in the energy industry. He started at Kimray, Inc. in 1983, a manufacturer of control valves and related equipment for oil and gas producing companies, and served in a variety of roles within the company. Kimray, which has 445 employees, was founded in 1948 by Hill's great-grandfather, Garman Kimmell Sr., and grandfather Garman Kimmell. Hill served as President and CEO of the company when he left in 2013, and has served in executive positions at two other energy companies – Logic Energy Solutions and Petrosmith. Hill started turning wrenches at the age of 16, fixing and rebuilding classic cars, and in 2016 he became the owner and operator of MAR-K, the nation's leading manufacturer of over 6,000 component parts for classic automobiles and trucks.
An avid runner, Hill co-founded the Oklahoma City Memorial Marathon, which has raised millions of dollars for the Oklahoma City National Memorial and Museum. Hill has also carried on a family tradition, which began with his grandfather, of supporting conservative political causes.
Michael Ballard, 50, of Tecumseh served in the U.S. Army and the Oklahoma National Guard. He is a retired Disabled Veteran and in 2014 was a candidate for a State Senate seat. On his website, he labels himself as an Abolitionist candidate on abortion.
Jake A. Merrick, 38, of Yukon is a Pastor, Author, Life Coach, and Trainer (True Cross Training) providing leadership coaching and complete personal development to individuals and companies.
Three other Republicans complete the list. Shelli Landon, 62, of Tulsa is a Minister, Film Animator, and Musician. Charles Tuffy Pringle, 83, of McLoud is a retiree. Miles V. Rahimi, 30, of Edmond is a Navy Veteran.
While Congresswoman Horn managed to narrowly defeat Congressman Russell in the 2018 election, she may have a tough time being reelected. Russell failed to aggressively campaign and was outspent in the 2018 race, but the Republican nominee in 2020 will be mounting a strong, and well-funded campaign. Also, President Trump will be at the top of the ballot and is expected to do well in Oklahoma, providing coattails that will help other Republicans further down on the ballot.
Oklahoma Corporation Commission
The Oklahoma Corporation Commission regulates oil and gas drilling, electric and gas utilities, trucking, pipelines, and telecommunications in Oklahoma. There are three Corporation Commission seats with six-year staggered terms. So, every two years one of the seats is up for reelection. Dana Murphy was reelected in 2016, Bob Anthony in 2018, and former Speaker of the Oklahoma House of Representatives, Todd Hiett, was elected commissioner in 2014. The seat held by Hiett is up for election this year. Hiett, 52, is a rancher from Kellyville and was the first Republican House Speaker in Oklahoma since 1921. He earned a 73% cumulative rating on the Oklahoma Conservative Index during his tenure in the Legislature.
Hiett is being challenged for the Republican nomination by Harold Spradling, 85, of Cherokee. Spradling ran for the seat held by Bob Anthony in 2018, and finished in third place with 14% of the vote in the Republican Primary. The retired businessman and social worker was also a candidate for the Oklahoma House in 1994.
No Democrats filed for the seat, but the winner of the Republican nomination will face Libertarian candidate Todd Hagopian, 40, of Bixby. Earlier this year, Hagopian ran for the Bixby Public Schools school board and lost in the primary election. Hagopian has been the President of Unarco for two years, and previously was a business unit manager for US Weigh Wrap Division in Dayton, Ohio and before that he worked as a Senior Sales Manager for Whirlpool Corporation.