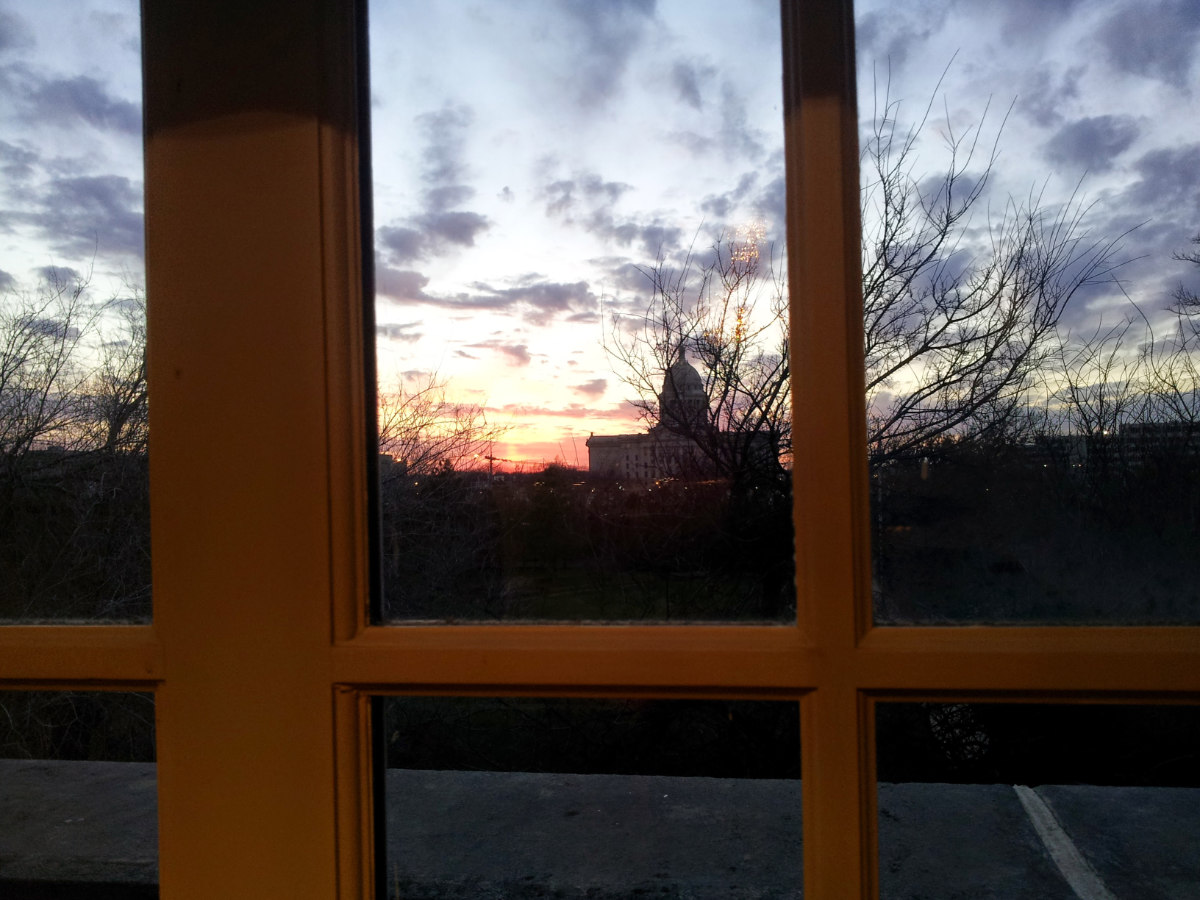 news
Governor's Race: Fallin vs Askins
Neither is placed among the hard conservative wing (as in the case of Fallin in the Republican Party) or hard liberal wing (as in the case of Askins in the Democrat Party) of their respective parties. Because of this, some conservatives have adopted the position that it makes little difference which candidate captures the Governor's Mansion on November 2nd.
But they are wrong. There are big differences between Jari Askins and Mary Fallin.
Conservatives were rightly enraged when Congressman Fallin voted for the bank bailout (TARP) in the fall of 2008. While Fallin and others have tried to defend this unconstitutional vote, it provided the philosophical premise for Obama, Pelosi, and Reid to increase the power of the federal government over the American economy.
As bad as that vote was, conservatives would be punishing the state and themselves for this bad vote by voting for Jari Askins.
Fortunately for the voters, both Askins and Fallin have many years of voting records that are easily documented. After 12 years in the Oklahoma House of Representatives, Askins had a 21% Conservative Index score. This hardly supports her campaign theme that she is an "Oklahoma Conservative."
Jari Askins was born and raised in Duncan, in a wealthy family that had made their money with a highly successful real estate abstracting business. Because of this inherited wealth, she has been able to personally fund her many campaigns for various offices, including the present race for governor to which she has contributed over $1 million. She graduated from Duncan High School in 1971, as "outstanding senior girl." It is universally conceded that Askins is a genuinely nice person, a long-time member of Duncan's First Christian Church, where she sings soprano in the choir.
Askins graduated from the OU Law School in 1980, then served as a special district judge. She ran unsuccessfully against incumbent Republican state Representative Ed Apple, but won the seat when Apple ran for Congress in 1994. Before her election to the state House, she served three years as deputy general counsel to Governor David Walters.
After 12 years in the Oklahoma House of Representatives, she won election as lieutenant governor in 2006, when then-Lieutenant Governor Fallin was elected to Congress. Her victory over Attorney General Drew Edmondson in the Democrat primary for governor this year was a stunning upset, which should send a warning shot to anyone who takes Jari Askins lightly.
Askins has never married, but still thinks Mr. Right will come along.
Perhaps an examination of her record in the Oklahoma Legislature tells us the most about Askins. In her first year in the Oklahoma House of Representatives, Askins scored zero percent conservative. She voted in opposition (along with only nine others) to the effort of fellow Democrat Frank Shurden to enact a "Concealed Carry" law. She voted in opposition to bringing a Right to Work bill out of committee.
In 1997, Rep. Bill Graves had an amendment for language that would have halted partial birth abortions in Oklahoma. Rep. Jim Hamilton moved to advance the bill, cutting off this pro-life amendment. Askins supported Hamilton's motion, which scuttled Graves' pro-life amendment. At the time, a leading pro-life activist in Oklahoma told the Oklahoma Constitution that this was "the clearest pro-life versus pro-abortion vote in several years," in the Oklahoma Legislature.
But, over the years, Askins voted the "pro-life" way five times on bills that the Oklahoma Constitution used on the Oklahoma Conservative Index..
In the September 11 edition of the Tulsa World, Askins was quoted, "In my personal belief, abortion is not a birth-control method. But I have always thought there should be exceptions for things like rape and incest and the health of the mother."
In the case Doe v. Bolton, the U.S. Supreme Court defined health in the abortion context as including "all factors -- physical, emotional, psychological, familial, and the woman's age -- relevant to the well-being of the patient. All these factors may relate to health." According to Tony Lauinger, the executive director of Oklahomans for Life, "The health exception has been the pro-abortion movement's most manipulated tool to perpetuate legal abortion on demand."
Askins did not respond to the candidate survey of Oklahomans for Life which asked candidates very specific questions.
By 1998, Askins had begun to vote in favor of gun rights legislation, including restricting gun liability, and allowing the carrying of a gun in an automobile.
In 2001, Askins voted for a bill that would have required the state to provide driver's tests in languages other than English. Thankfully, the bill died in conference. In 2003, she voted for giving in-state tuition to illegal aliens.
The nine million dollar transferable tax credit granted to Great Plains Airline in 2002 had the support of Rep. Askins. Great Plains later declared bankruptcy, illustrating the folly of transferable tax credits as a way to "boost the economy."
A law passed in 2003 created a "finger image database" which required law-abiding individuals to provide electronic finger images when they obtained, renewed, or replaced a driver's license. Critics contended that the legislation could be misued by an already overly-intrusive government, but Askins voted for it.
In 2005, Askins voted in favor of the largest tax cut in Oklahoma history.
Another bill in 2005 would have increased the reasons that cities can use to condemn property for private use. It added the words "unproductive, undeveloped or underdeveloped" as reasons to condemn, take, and turn over to another for private use, if it is "necessary to promote the general or economic welfare of such city or town." Despite the state Constitution's words that, "No private property shall be taken or damaged for private use, with or without compensation, unless by consent of the owner," Askins voted for increasing the eminent domain powers of the state. Fortunately, the bill was not considered in the Senate.
Askins scored 43% Conservative in 2006, when she was running for lieutenant governor, voting for the Stand Your Ground Law, and for repeal of the Death Tax.
While the lieutenant governor has little impact on the course of legislation, a moment in the 2000 legislative session was certainly the high point of then-Lieutenant Governor Mary Fallin's 12 years in that position. State Senator Mike Fair was making an effort to attach a provision to HB 2659 to send Right to Work to a vote of the people. The Democrat leadership in the Senate tried to avoid a recorded vote, by advancing the bill through voice vote, without Fair's Right to Work amendment.
In dramatic fashion, Fallin, exercising her constitutional authority as President of the Senate, wrested control of the chair from President Pro Tem Stratton Taylor. This led to a stand-off which was ended when Fair was allowed to make his motion. Fair has told the Oklahoma Constitution that this was the critical turning point which led to the statewide vote that made Oklahoma a Right to Work state.
In stark contrast, an effort was made in favor of Right to Work in the House during the same session, but Askins was absent, and failed to vote.
While Askins has what Right to Life leader Lauinger calls a "mixed" record on the abortion issue, Mary Fallin has a 100% pro-life voting record during her four years in the Oklahoma House and her four years in Congress.
In fact, since going to Congress, following her election in 2006 in which she bested several strong Republican candidates in the primary, Fallin has consistently scored over 80%, and usually over 90% conservative on various conservative ratings, including The American Conservative Union and The New American magazine's "Freedom Index."
While Nancy Pelosi arrogantly led fellow leftist Democrats through crowds of anti-socialized medicine protestors, Fallin identified with constitutionalist protestors, even waving a "Don't Tread on Me," flag from a Capitol balcony, the flag that has become a symbol of the anti-big government Tea Party movement.
Fallin has certainly moved to the Right with her voting record since coming to Congress, in contrast to her time in the Oklahoma House of Representatives, where she only scored 59% Conservative on the Oklahoma Conservative Index. She tended conservative on the bigger issues while in the Oklahoma House, but did cast some votes that were not conservative. For example, Fallin voted to authorize the ticketing of citizens for simply not wearing a seat belt. She voted to liberalize the prison "cap law," to relieve prison overcrowding.
On the other hand, she voted against a bill considered a step toward socialized medicine, she voted for a bill to strengthen the death penalty in Oklahoma, for concealed carry, against abortion, against tax increases, and in opposition to the Anita Hill endowed chair.
It is beyond a doubt that Fallin's tenure in the Oklahoma House was to the Right of Askins' tenure in the Oklahoma House.
Mary Fallin (then Copeland) was born and raised in Tecumseh, where first her father, and then her mother served as mayor. At Tecumseh High School, Fallin was president of the pep club, and played basketball and other sports. She became interested in politics after serving as a page in the state House as a senior.
After attending Oklahoma Baptist University for two years, she transferred to OSU. There she was involved in College Republicans, and made the switch from Democrat to Republican, after comparing the platforms of the two parties. She married a dentist, Joe Fallin, and they were both active in the Young Republicans.
In 1990, she was elected to the Oklahoma House, and four years later, became the first Republican in state history to be elected lieutenant governor. She also was the first woman.
When Governor Frank Keating was term-limited in 2002, she was expected to make a bid for governor. However, the Republican Party Establishment blessed the campaign of Congressman Steve Largent, instead. Many political observers believe Largent ran a weak campaign, losing to Brad Henry. It is widely believed that Fallin would have won the general election, because she is a tougher, more tenacious campaigner than Largent.
While lieutenant governor, Fallin divorced, an event that threatened the future of her political career. However, she continued on, juggling her political career with raising two children, winning reelection twice, then two terms in Congress. Last year, she married an attorney from Edmond, Wade Christensen.
What difference would it make which woman is elected governor?
Governor Henry used his veto pen to repeatedly thwart good legislation passed by a Republican Legislature. A Governor Askins can be expected to do the same, probably with greater energy than Henry brought to the office. Perhaps the most important difference will come with the struggle over redistricting of the Oklahoma congressional delegation and the Oklahoma Legislature. With a Republican Legislature, and a Republican governor, both will be decided in the Republicans' favor. With a Governor Askins, it is highly likely that some good conservative Republicans will never be able to win election to the Legislature, because Askins can threaten to veto a redistricting plan favorable to the Republicans.
The voters of Oklahoma have a clear choice in the governor's race.