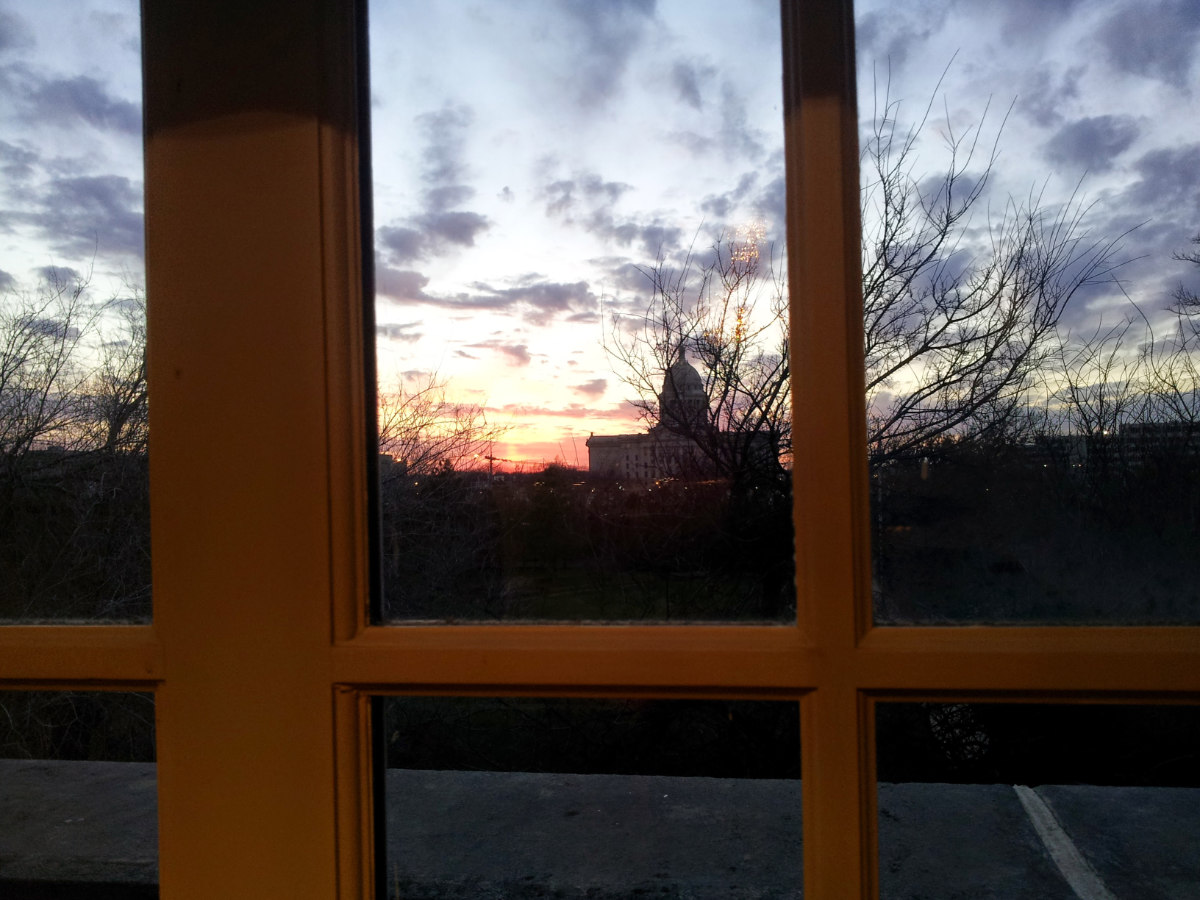 news
2018 Race for Governor
Former state representative Joe Dorman was the Democrat nominee for the office in 2014. Dorman won 41 percent of the vote against Fallin in that race, despite being heavily outspent. In response to speculation that he might be considering another run in 2018, Dorman released a statement on November 30: "Thank you to all who expressed encouragement to look at another run in 2018, but it is just not the right time for me to consider it." He reiterated his commitment to the Oklahoma Institute for Child Advocacy (OICA) of which he became executive director last September.
Former four-term Democratic congressman, Dan Boren, also announced in November that he would not run in 2018. Last year, Boren said he was actively exploring the race and spent the year visiting with civic, business, and political leaders across the state, but decided that now is not the time. However, he did leave the door open to a future return to public office. In the meantime, the 43-year-old Boren said he will continue working on business development for the Chickasaw Nation. Boren served one term as a state representative before being elected to Congress in 2004. He held the 2nd District seat in eastern Oklahoma for eight years before stepping down. His grandfather, Lyle Boren, was a congressman and his father, current University of Oklahoma President David Boren, served as Oklahoma governor and U.S. senator.
Former state Senator Connie Johnson (D-Forest Park) will be making the race. She is the past vice chair of the Oklahoma Democratic Party. Johnson, 64, was the Democrat nominee against U.S. Senator James Lankford when he ran for a full-term in 2014. She was among the most liberal members of the state Senate. She had a cumulative average of 12% on the Oklahoma Conservative Index published by the Oklahoma Constitution newspaper, She is opposed to the death penalty and has a solid pro-Abortion voting record. She was one of the leaders of a failed effort to get an initiative petition on the ballot to legalize the use of marijuana in Oklahoma. Johnson received 29% of the vote in that race.
Oklahoma House Minority Leader Scott Inman of Del City announced on April 20 that he will run for the post. Rep. Inman, 38, has a cumulative score of 44 percent on the Oklahoma Conservative Index, and scored 46% this year. Inman leads a dwindling number of Democrats in the Oklahoma House, with a loss of three Democrat seats in the 2016 election. However, Democrats did pick up two seats in recent Special Elections. Inman is term-limited and cannot run for reelection next year.
Former Attorney General Drew Edmondson announced in May that he will make the race. Edmondson ran for governor in 2010 instead of running for reelection, but lost in the Democrat Primary to Lt. Gov. Jari Askins who went on to lose to Mary Fallin. Edmondson, 70, drew attention in 2016 as the spokesman for the successful effort which defeated State Question 777, the so-called Right to Farm measure. The Edmondson name has been well known in Oklahoma politics, but is less of a factor now. His father, Ed Edmondson, served in the U.S. House of Representatives. His uncle, J. Howard Edmondson, served and governor and then as U.S. Senator.
While the 2018 race has a good rooster of Democrat candidates, there is even stronger interest on the Republican side. However, the election of Donald Trump as president has narrowed the field of candidates.
When he was first elected to Congress in Oklahoma's first district, Jim Bridenstine pledged to only serve three terms. Bridenstine says he intends to honor that pledge and will not run for reelection in 2018. Bridenstine is the most conservative of Oklahoma's five members of the U.S. House of Representatives. He is on the short list of candidates to head the National Aeronautics and Space Administration (NASA) in the Trump administration. If he does not end up at NASA, many conservatives are urging him to run for governor, but the time is growing short to join the race. Bridenstine, a Navy combat pilot who flew missions in Iraq and Afghanistan, served as executive director of the Tulsa Air and Space Museum and left in 2010 to concentrate on his career in the Naval Reserve.
Due to term-limits, Oklahoma Attorney General Scott Pruitt would not be able to run for a third term in 2018. He had already dismissed speculation concerning a possible run for the first district seat in Congress, but expressed a strong interest in a run for governor. However, in the weeks following the presidential election, President-elect Trump announced that Pruitt was his choice to head the federal Environmental Protection Agency (EPA). Pruitt has fought overreach by the EPA, filing lawsuits against the agency. He was confirmed by the U.S. Senate for the cabinet level department on February 17 and is not expected to give up the post to make the 2018 race for governor.
State Auditor and Inspector Gary Jones is also term-limited in 2018 and is available to make the race. Jones, 62, announced in a twitter post on March 25 that he was forming a committee to decide what is best for him to do in 2018, and he formally entered the race in May. During an appearance at the Oklahoma Conservative Political Action Committee (OCPAC) on April 12, Jones acknowledged that he could not match the spending of some other candidates considering the race, but said he could make a successful campaign with a third of the funds that others might spend. Prior to his election as Auditor and Inspector, Jones served as chairman of the Oklahoma Republican Party.
Republican Lt. Gov. Todd Lamb formally announced that he will make the race. When the first campaign fund raising report was filed for the period ending June 30, Lamb had raised over $1 million for the race. Lamb, 45, an Enid native, was elected lieutenant governor in 2010 and reelected in 2014, carrying all 77 counties. Prior to his election as Lt. Governor, Lamb served in the State Senate from 2004 to 2010 earning a cumulative average of 66% on the Oklahoma Conservative Index, but scored 73 percent in the final year. Prior to his election to the Oklahoma Senate, he worked for former Gov. Frank Keating and former U.S. Sen. Don Nickles. He also worked as a U.S. Secret Service agent.
Attorney Gary Richardson of Tulsa formed an exploratory committee in February. On April 24, he made his official announcement for the Republican nomination for Governor. This is his second race for the state's top job. He ran in 2002 as an Independent candidate, and spent more than $2.3 million of his own money in that effort. Richardson, who is now 75, finished in third place behind the Democratic candidate, Brad Henry, and the Republican nominee, Congressman Steve Largent. Some Republicans blame Richardson for Largent's loss, although many blame the loss on mistakes by the Largent campaign, including his unnecessarily taking a position on th e proposal to outlaw rooster fighting. Henry won a narrow victory over Largent, 6,866 votes with over 1 million votes cast in the election. Richardson received over 146,000 votes which was 14 percent. It is argued that Richardson siphoned off Republican votes that should have gone to Largent.
Richardson was the Republican nominee for the U.S. House of Representatives in Oklahoma's second district in 1978 and 1980, losing both times to Democrat Congressman Mike Synar. He was appointed by President Ronald Reagan as U.S. Attorney for the Eastern District of Oklahoma serving from 1981 to 1984. He then founded a successful law firm in Tulsa.
Oklahoma City mayor Mick Cornett announced in February that he would not run for another term as mayor and on May 31 he announced he would be a candidate for governor. Cornett spent 20 years in broadcast journalism as an anchor and reporter before making a successful run for Oklahoma City's Ward 1 council seat. In 2004 he was elected as the city's 35th mayor and was the first in the city's history to be elected to four terms. He just completed a term as president of the U.S. Conference of Mayors and is the longest serving mayor among the 50 largest cities in America. His tenure at City Hall included the successful recruiting of an NBA team to Oklahoma City. In 2006, Cornett was a candidate for the U.S. House of Representatives in the fifth district. In that year, Ernest Istook gave up the seat to run for governor. Cornett made it into the Republican primary runoff election where he was defeated by Mary Fallin.
In July, Kevin Stitt became the sixth Republican to officially join the race. Stitt is founder and CEO of Gateway Mortgage Group (GMG) based in Jenks, near Tulsa. Stitt founded GMG in 2000 and it has grown to be one of the nation's largest privately held mortgage companies and employs more than 1,100 people providing mortgage services in 40 states. Stitt grew up in Norman. He received an accounting degree from Oklahoma State University. He then moved to Tulsa and worked in the financial services sector before starting GMG. Gateway is expected to originate more than $6 billion in mortgage loans this year, while its servicing portfolio will eclipse $14 billion.
The next Republican who joined the race is former state Rep. Dan Fisher of El Reno who announced on July 26. Fisher decided not run for reelection to the Legislature last year, after serving only two terms. He complained that the legislative system was rigged and prevented he and other conservatives from accomplishing conservative reforms. He had a cumulative score of 94 percent on the Oklahoma Conservative Index. He is pastor of the Trinity Baptist Church in Yukon.
With the return of the Libertarian Party in 2016 as a recognized political party in the state, several candidates will offer themselves for the party nomination. In order to maintain ballot status, a recognized party must poll at least 2.5 percent of the vote for their nominee for president in the presidential election years, or their candidate for governor in gubernatorial election years. Their 2016 presidential candidate, Gary Johnson, received 5.75 percent, which secured the party a place on the ballot for 2018. At least three possible candidates have expressed an interest in running for the Libertarian Party nomination for governor.
Joseph Maldonado, also known professionally as "Joe Exotic," is an animal handler who owns Greater Wynnewood Exotic Animal Park south of Oklahoma City and is an entertainer, actor, and musician. Maldonado, 54, made a run for president last year as a write-in candidate using the Joe Exotic moniker.
Rex Lawhorn of Broken Arrow is a telecommunications technician. He has been involved in state and federal levels of politics as an activist. He was chairman of the Americans Elect Party which was briefly on the ballot in Oklahoma. He is currently the Oklahoma State Director for the Our America Initiative and is involved in various other grassroots causes.
Chris Powell from Oklahoma City ran for Oklahoma County Clerk last year and received over 89,000 votes, which is more votes than the Libertarian Party presidential candidate received in the county. He has been active in the state party since 2000 and has served as chairman and vice chairman. He formally announced for governor on July 8.
Those who expect the Republican nominee to easily win re-election should bone up on their Oklahoma history. Since 1960, the norm has been for the party that wins the White House to lose the governor's race two years later. The exception was 1978, when Democrat George Nigh just barely eked out a win over a former state representative, Ron Shotts, in the governor's race. With Governor Mary Fallin holding unusually low approval ratings (5th lowest in the country), the Republican brand has been damaged, and we can expect a close race, even with the Democratic Party in Oklahoma being so weak right now. The actual filing for state offices isn't until April of next year.