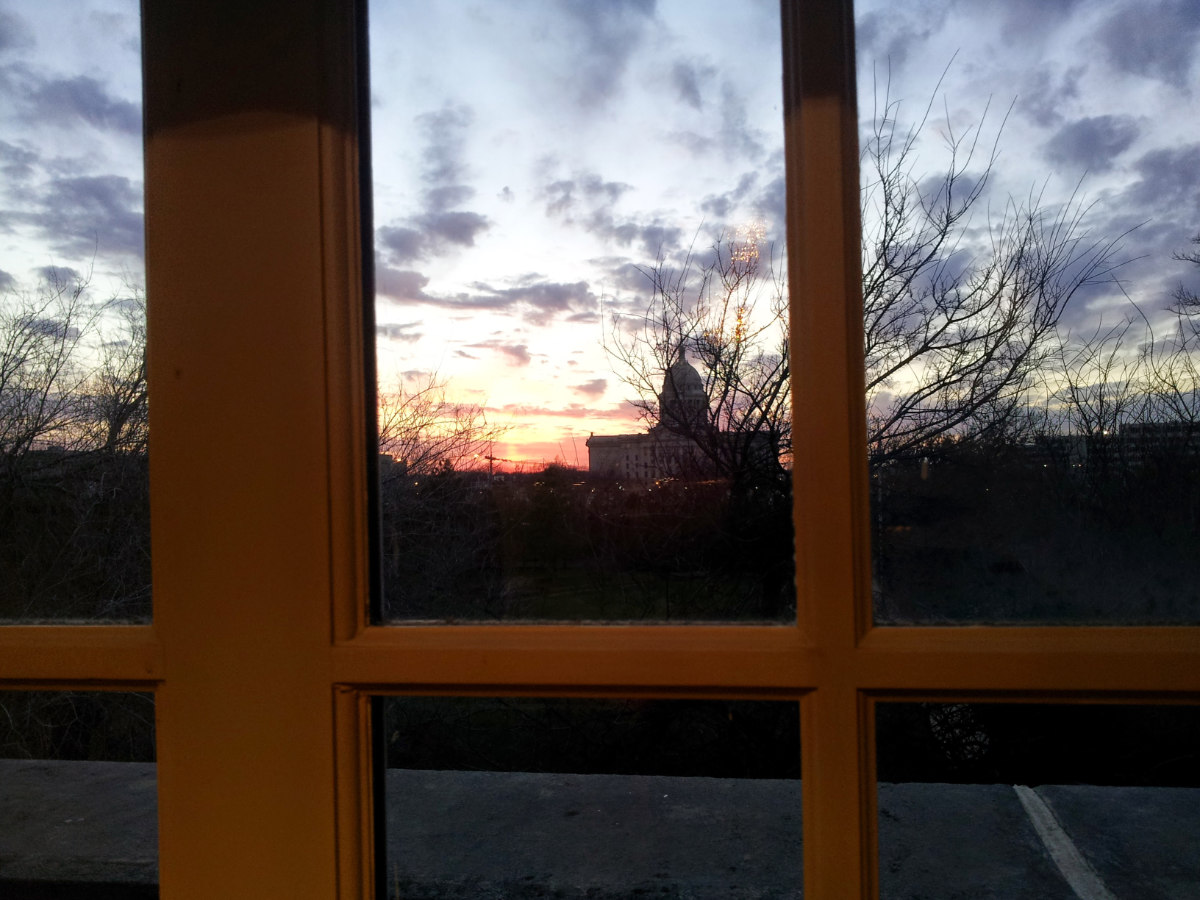 tidbits
Tidbits for Summer 2017
New Democrat State Chair
Oklahoma Democrats elected a new state chair to run the party for the next two years at the Oklahoma Democratic State Convention on May 20 in Oklahoma City. Mark Hammons, the incumbent, did not run for reelection. Four candidates ran for the top leadership post in the state party. Sarah Baker ran for the District 43 house seat in 2014 and lost. Since then, she started a marketing firm and filled several staff positions in the party. Trial attorney Mark Henricksen was endorsed by progressives in the party. He is a well-known liberal in Oklahoma City and served on the board of American Civil Liberties Union of Oklahoma. Democrat activist Mike Workman was the Democrat nominee for state Labor Commissioner in 2014 and U.S. Senator last year, losing both of those races. Anna Langthorn worked as an intern for the party and served as the president of the Young Democrats of Oklahoma for two years. She was campaign manager for the election of Kay Floyd, the first openly gay woman to be elected to the Oklahoma Legislature. Until February, she was a junior partner at Skyfire Media, an Oklahoma political advertising and consulting firm which coordinated successful campaigns for Democrat clients. Langthorn won on the second ballot in a runoff with Henricksen. At age 24, she is the youngest person to be elected chair of the Oklahoma Democratic Party.
Republican State Chairman Reelected
Pam Pollard.of Midwest City ran for reelection as chairman of Oklahoma Republican Party. She was elected to lead the party in October 2015 after Randy Brogdon who was elected earlier in the year resigned. She is a former Oklahoma County GOP chairman and was President of the Oklahoma Federation of Republican Women and also served a short time a Treasurer of the National Federation of Republican Women, resigning that position when she became Chairman of the state party. She was challenged for reelection by attorney and business owner Robert Aery. Pollard was easily reelected at the Oklahoma Republican State Convention in Moore on May 6.
Kouplen Elected House Minority Leader
In May, the House Democratic Caucus chose Rep. Steve Kouplen of Beggs to replace Rep. Scott Inman as Minority Leader when Inman terms out next year. Kouplen is serving his fifth consecutive two-year term in the House and will be in his final term if reelected in 2018. He has a 43% cumulative average on the Oklahoma Conservative Index and Rep. Inman rated 44 percent. He sits on the House Committees on Agriculture and Rural Development, Rules, Energy and Natural Resources and Appropriations and Budget. He is also the current Democratic Caucus Chairman. "It is a great honor to have been chosen by my peers," Kouplen said, "particularly since following Scott Inman will be an incredibly tough job. I look forward to utilizing the talents of our entire caucus during the 57th Legislature." Rep. Emily Virgin (Conservative Index rating 16%) of Norman will succeed Kouplen as the caucus chair. Rep. George E. Young (Conservative Index rating 33%) of Oklahoma City was re-elected as caucus vice chairman. The House Democrats elect their officers a year in advance to help with the transition.
RINO Rep. Bush Endorses Democrat
Tulsa RINO (Republican In Name Only) State Representative Carol Bush, District 70, spoke at the July 13 campaign kickoff event in Oklahoma City for Democrat Kendra Horn, who is running against Republican Fifth District Congressman Steve Russell. Rep. Bush has a Oklahoma Conservative Index rating of just 13 %, that is 13 out of 100, in this past legislative session. Bush, who narrowly defeated conservative State Rep. Ken Walker last year, sat down for an interview last December with the ultra-liberal The Tulsa Voice tabloid. In that interview she said she was encouraged to run by then Democrat State Rep. Jeanne McDaniel. She told The Tulsa Voice she supported gay rights, the removal of the Ten Commandments from the state capitol, tax hikes, handing out birth control in public schools, and thinks people concerned about transgender bathrooms are ignorant. She also thinks the GOP, especially State Rep. John Bennett of Sallisaw, is too religious. When the Republican state house leadership asked her to apologize for her remarks, she sent out an apology claiming she was taken out of context. However, The Tulsa Voice defended its December story in its January issue. In addition to Jeannie McDaniel, Democrats George Kaiser and former State Senator Penny Williams of Tulsa contributed to her 2016 campaign to defeat Rep. Walker in the GOP primary. Perhaps a conservative Republican will challenge Bush in 2018.
Candidates for Lt. Governor
Oklahoma's current Lieutenant Governor, Todd Lamb, is term-limited and seeking the Republican nomination for Governor. With the post open in 2018, a number of Republican candidates are entering the race. Former Oklahoma Republican Party Chairman and small business owner Matt Pinnell formally began his campaign for Lt. Governor on April 20. Dominque Damon Block Sr. of Oklahoma City filed with the Ethics Commission to raise funds for his campaign. He was a 2010 Republican candidate for Oklahoma House of Representatives in District 88.
On July 25, state Senator Eddie Fields (R-Wynona) announced that he will run for Lieutenant Governor. Fields is a rancher and small businessman from Osage County. He was first elected to the Oklahoma Senate in 2010 after serving one term in the Oklahoma House of Representatives. He was reelected in 2014. While he could run and be reelected in 2018, due to the 12-year legislative term limits, he would not be able to complete a full term because of his time in the House. He has a cumulative average of 53% on the Oklahoma Conservative Index and scored only 16% in this year's session.
Oklahoma Corporation Commissioner Dana Murphy of Edmond announced as a candidate on July 26. Murphy, 57, won another six-year term last year and will remain in the position during the campaign. She was first elected in 2008 in a Special Election to fill the remainder of the term of Denice Bode who resigned. She won reelection in 2010 for a full six year term. Since she did not have a Republican challenger last year, and the Democrat withdrew from the race, she has a large campaign fund that can be transferred to this race.
DHS Program Cuts
After Oklahoma Department of Humans Services (DHS) Executive Director Ed Lake announced in July that the agency will cut $30 million from programs that support foster children and elderly meals, House Speaker Charles McCall (R-Atoka) said the announcement is one reason his bill to audit agency budgets every four years is so important for taxpayers. Speaker McCall authored HB 2311 this session, which would require the Legislative Services Bureau (LSB) to audit or contract with a third-party auditor to audit agency budgets. The bill was signed by Gov. Mary Fallin and becomes effective on October 1, 2017.
Speaker McCall said DHS received a $53 million increase in the state appropriations for Fiscal Year that began on July 1, and the agency owes taxpayers an explanation for why it could afford the programs last year but cannot this year after receiving a large increase in funding. "This is an agency that received $700 million in taxpayer dollars last session. We worked diligently during the legislative session to meet the needs of the agency as Director Lake requested, so this announcement to cut programs is surprising to say the least," said McCall.
As one of the largest state appropriated agencies, McCall said he believes DHS should be among the first agencies to be audited by the LSB in 2018.
Rep. Osborn Replaced as Chair
Just days after State Rep. Leslie Osborn (R-Mustang) defended the Department of Human Services director from criticism by House Speaker Charles McCall, she received notice that she is being replaced as House Appropriations & Budget chair. Osburn claimed that everyone was aware, including Speaker McCall, that cuts in DHS programs would have to be made, even though the agency received a budget increase. Following the announcement, Rep. Osborn responded: "Speaker McCall's decision to relieve me of my duties as Chair of the House Appropriations and Budget Committee is his to make. I am disheartened by his decision, but I am not deterred in my desire to work for the betterment of our wonderful State. Oklahomans are calling out for leadership, and I intend to answer their call." She added: "It is a sad day when we cannot have an honest conversation about the major financial and budget issues we face as a state." McCall appointed Rep. Kevin Wallace of Wellston as the new Appropriations & Budget chairman. Wallace has a cumulative average score of 51% on the Oklahoma Conservative Index and scored 19% this year.
Osborn for Labor Commissioner
Following her replacement as House Appropriations and Budget chair, Rep. Leslie Osborn announced that she will run for Labor Commissioner in the 2018. She has the support of Speaker Charles McCall in the race. Melissa Houston is currently serving as Labor Commissioner and says she will not run for the seat in 2018. She was appointed to the post by Governor Fallin after the murder of Commissioner Mark Costello in 2015. Osborn has a cumulative average on the Oklahoma Conservative Index of 51% and scored a lowly 19% in this year's session.
Sen. Marlatt Removed from Leadership
In July, the leader of the Oklahoma Senate relieved Sen. Bryce Marlatt (R-Woodward) of his leadership duties after he was accused of lewd conduct by an Uber driver. "As leader of the Oklahoma Senate, it is my expectation that every member conduct himself or herself in a manner that is above reproach," Senate Pro Tem Mike Schulz (R-Altus), wrote in a letter to members. "Allegations like those contained in the police report concerning Sen. Marlatt are very serious in nature and are not tolerated. Effective immediately, Sen. Marlatt is relieved of his Senate chairmanship and vice chairmanships, pending the outcome of this active matter that is still being sorted out. Further action may be taken as deemed necessary." Marlatt,, was chairman of the Senate Energy Committee and vice chairman of both the Senate Rules Committee and the Senate Transportation Committee. The Oklahoman reported that an Uber driver told police that Marlatt grabbed her forcefully and kissed her on the neck while she was driving him on June 26 on the way to a hotel in Oklahoma City. Marlatt then had the driver take him to The Pump Bar, according to the police report. She reported the incident June 28.
Sen. Newhouse Called for Active Duty
State Sen. Joe Newhouse (R-Broken Arrow) announced that he will soon be deployed in support of operations in northern Africa as part of the continuing fight against terrorism. Before seeking elected office, he was a jet pilot in the U.S. Navy with the rank of lieutenant assigned to the aircraft carrier USS Nimitz and flew multiple combat missions during the Iraq War. After returning home, Newhouse continued to serve in the Officer Reserve Corps as a Navy Commander and military advisor to NATO.
"When you are in the reserves, you know there is the possibility that you could be deployed at any time. Although my service in the Senate could have possibly exempted me, I would not want to be treated differently than any other reservistùespecially in light of recent terrorist attacks in England, France and around the world," said Newhouse. Newhouse said his deployment means he will likely miss the 2018 legislative session though he will be in contact with his office, fellow members and constituents throughout his deployment and returning to Capitol when his tour of duty is complete.
Loveless Signs Settlement Agreement
State Sen. Kyle Loveless resigned during the last legislative session amid an investigation by the Oklahoma Ethics Commission. On July 7, Loveless signed a settlement agreement acknowledging that he misused more than $100,000 in donations to his 2012 and 2016 campaigns. Under the agreement he was charged in Oklahoma County District Court in a plea deal made with prosecutors and sentenced to probation. He agreed to make restitution for his personal use of $112,524 in campaign funds to be paid to the state's General Revenue Fund, pay $10,000 to the Oklahoma Ethics Commission for the costs of its investigation, and pay $40,000 to the Oklahoma State Election Board to cover the cost of the special election to fill his vacant seat. He also agreed to never again hold any position, elected or otherwise, paid for by public funds. He further agreed to never act as a paid political consultant "for any state, local, county, municipal or school district campaign" in Oklahoma and to never engage in lobbying activities in the State of Oklahoma.
Byrd for State Auditor and Inspector
Oklahoma Deputy State Auditor Cindy Byrd officially declared as a 2018 Republican candidate for State Auditor & Inspector at the State Republican Convention in May. The current holder of that office, Gary Jones, is prevented from running for a third term, due to term limits. Byrd, a CPA, has spent more than 20 years providing accountability and transparency for state taxpayers. During her tenure at the State Auditor's office, Byrd identified waste and exposed corruption at the state and county level. Among her efforts was leading an audit in Rogers County that identified more than $5 million in fraud resulting in the indictment of two County Commissioners.
Mulready for Insurance Commissioner
State Rep. Glen Mulready (R-Tulsa) filed a "Statement of Organization" with the Oklahoma Ethics Commission to form the Friends of Glen Mulready, 2018 campaign committee. The committee will support the Tulsa businessman's 2018 campaign for state Insurance Commissioner. Mulready has worked in the insurance industry for more than 33 years. He spent 13 years on the executive teams of Oklahoma's two largest health insurance companies and for the last eight years has been self-employed as an independent. Mulready has also led numerous efforts to reform the state's insurance laws in his capacity as a state legislator. He was first elected to represent House District 68 as a Republican in 2010 and currently serves as the Majority Floor Leader. He has a cumulative average score of 61% on the Oklahoma Conservative Index and scored 20% this year.
McDaniel for State Treasurer
Rep. Randy McDaniel announced on July 10 that he will be seeking the office of State Treasurer. McDaniel, a Republican from Edmond, serves as the Chairman of the House Banking, Financial Services and Pensions Committee. He also has worked for more than two decades in the financial services industry as a financial advisor. After earning a degree in Economics from the University of Oklahoma and a graduate degree from Cambridge University, McDaniel began his career in banking and then worked for more than twenty years as a financial advisor for both individuals and institutions. In his capacity as a financial advisor, McDaniel managed hundreds of millions of dollars for a diverse group of clients.
"In government, I have used my background in economics and investments to address some of the state's greatest financial challenges, such as the state pension system," said McDaniel. "After authoring and passing a series of pension reforms, the situation has turned from a looming insolvency crisis to a clear path towards strength and stability. This improvement is not only important for pension participants, but also to the state's bond rating. It is very important for our next State Treasurer to have a clear understanding of these complex issues." Rep. McDaniel has a cumulative average of 72% on the Oklahoma Conservative Index, but received a 30% score in this year's session.
Oklahoma Bond Rating
In July, Fitch Ratings downgraded the ratings on several Oklahoma bonds by a notch. This action could increase the state's borrowing costs on a number of projects, such as the American Indian Cultural Center in Oklahoma City, the Oklahoma Museum of Popular Culture in Tulsa. Some higher education construction projects and the new state Health Department lab approved by the Legislature this year, are among upcoming bond-financed projects impacted by the downgrade. But, the rating change won't impact Oklahoma Turnpike Authority bonds, because they are backed by revenue generated by the turnpike system. The downgrade is due to concerns about bonds that are dependent on state appropriations to repay the bonds.
Fitch announced it was lowering Oklahoma's issuer default rating from AA+ to AA, the rating on the state's general obligation bonds from AA+ to AA, and the ratings on the state's Oklahoma Capitol Improvement Authority and Oklahoma Development Finance Authority bonds from AA to AA-. With the downgrade, Fitch's Oklahoma ratings will be similar to those of Standard & Poor's credit rating service, which lowered Oklahoma's rating March 1, and Moody's rating service, which has been slightly lower than Fitch's for a number of years.
Fitch noted in its downgrade report that Oklahoma has relied on a continued drawdown of the state's Rainy Day Fund and one-time revenue sources to fill large revenue gaps over the last couple of years rather than broadening the tax base. Investors rely on the credit ratings to evaluate the risk of default and generally demand a higher interest rate for bonds with a lower rating. It has been estimated that for every $100 million the state borrows under a 20-year repayment structure, a difference between a AA and AA- rating means the state may end up paying around $2.4 million in additional interest over the life of the bonds.
Borrowing from Rainy Day Fund
Oklahoma Attorney General Mike Hunter issued an opinion in June which said state finance officials can borrow money from Oklahoma's Constitutional Reserve Fund, often called the Rainy Day Fund. In the last budget year, Finance Preston Doerflinger borrowed the entire $240.7 million balance from the fund in order to pay the state's expenses. Doerflinger asked Hunter for an opinion on whether the action was legal. Doerflinger claimed that the state Constitution allowed for the transfer of money from state funds to cover expenses during revenue shortfalls.
In his opinion, Hunter wrote that transfers are OK if they are truly temporary; but the Constitution requires all the money to be paid back at the end of the fiscal year which closes at the end of June. However, the attorney general also wrote that money can't be withdrawn from the fund to avoid a revenue failure declaration. Also, transfers from the fund have to be based on a reasonable estimate that higher revenue later in the budget year will be available to pay the state's bills and also repay the fund. Hunter warned that borrowing cannot interfere with the Legislature's ability to appropriate money from the Rainy Day Fund. During the 2017 session, lawmakers authorized two supplemental appropriations, but distribution of those funds were delayed until money was returned to the fund. However, even in those instances, Doerflinger's actions apparently are within the guidelines set by the attorney general in his opinion.
AG Hunter Defending Campus Chapel
Oklahoma Attorney General Mike Hunter is defending East Central University's right to retain religious icons on its campus chapel in Ada. A cross tops the Kathryn P. Boswell Memorial Chapel on the campus. After learning about a "demand letter" from an advocacy group seeking to have crosses, Bibles and an altar removed from the chapel, Hunter asked officials at ECU and the Regional University System of Oklahoma to refer all questions regarding architectural features of the chapel to his office. Hunter said the letter is an implicit threat to take legal action and should be directed to the attorney general as the state's chief legal officer. In June, Americans United for Separation of Church and State sent the letter to ECU President Katricia Pierson seeking the removal of religious items inside and outside of the chapel, including the cross atop the steeple. "The cross displays and the various other religious displays in the chapel plainly violate the law. Please remove them," the letter stated. Ian Smith, staff attorney for Americans United, said the organization received a complaint from a member of the Ada community. Pierson said she would convene a committee of students, faculty and community members to study the issue.
REAL ID Extension
In June, Gov. Mary Fallin and the Oklahoma Department of Public Safety (DPS) announced that Oklahoma had received an extension from the U.S. Department of Homeland Security to meet the requirements of the REAL ID Act through October 10 of this year. "We will request additional extensions until we are fully compliant with the REAL ID Act," said Fallin.
In February, Fallin signed House Bill 1845, which allowed state officials to begin work on building a compliant system. That includes training tag agents and creating a centralized office to handle card manufacturing and storage. Oklahoma Public Safety Commissioner Michael Thompson said implementing all of the changes could take two years or longer. Officials hope that the Department of Homeland Security will acknowledge the state's progress and grant extensions until the state achieves full compliance with the REAL ID Act and implementing regulations.
Other States Follow Oklahoma Lead
In April 2016, Governor Mary Fallin signed Senate Bill 1148 into law as the first state to pass legislation intended to put an end to counterproductive mandates that drive up the cost of medical care and limit patient choice. Twenty-two states have now introduced bills inspired by this legislation sponsored by Rep. Mike Ritze (R-Broken Arrow) who is a physician. His bill seeks to reform a physician specialty board recertification process known as "maintenance of certification" or MOC. Over the last decade, MOC has become increasingly irrelevant, onerous, expensive, and detrimental to patient care according to numerous physician surveys. Research published in the Annals of Internal Medicine estimates that MOC costs will balloon to $5.7 billion over 10 years and physicians will spend 33 million hours on MOC activities away from patient care.
"Unfortunately the special interests that profit from MOC requirements, at the expense of patients and doctors, are increasing their opposition to these important reforms," Ritze said. Charles Kroll, CPA and healthcare forensic accountant explains, "The 'not-for-profit' organizations selling MOC have amassed over $1 Billion in assets; they have a lot to lose if more bills like SB 1148 are enacted. MOC is helping pay for over $50 million dollars in annual executive compensation and retirement benefits." Rep. Ritze concluded, "We are not going to stop working to help Oklahoma patients and physicians. Next year, we will be back with legislation to improve on SB1148 and close loopholes some have found to continue imposing MOC on the state's medical workforce to the detriment of patient care."
U.S. Supreme Court Ruling on Blaine Amendment
In June, the U.S. Supreme Court ruled 7-2 in favor of a Missouri church and Christian school that applied for a public grant program which recycled shredded tires to use as padding on outdoor playgrounds. The U.S. Supreme Court overruled a decision by the Missouri State Supreme Court that used the Missouri Constitution's Blaine Amendment to prohibit the school from participating in the program. The high court ruled that the school's ability to participate in the program was protected by the First Amendment, and that they couldn't be omitted from the program based on their religion.
State Rep. Mike Ritze (R-Broken Arrow), released the following statement upon the court's ruling: "When used incorrectly, the Blaine Amendment is a dangerous device that threatens the oldest founding principle of our country – freedom of religion. Oklahomans have had a similar experience with the Blaine Amendment when the Oklahoma Supreme Court used its hostile language to rule we could no longer display the Ten Commandments on state property. I applaud the U.S. Supreme Court and implore them to take similar action in our case and reverse this government overreach that threatens our state's freedom of religion. "
Brian Maughn Campaign Growing
Oklahoma County Commissioner Brian Maughn is running for mayor of Oklahoma City, and if his campaign event July 2 is any indication, his campaign is growing in strength. The event featured country music stars Wade Hayes and Jody Miller, both Oklahomans, and drew a crowd of hundreds. Maughn has clearly been a conservative star himself at the Oklahoma County Courthouse. His opponent is state Senator David Holt, who scored a dismal 13% conservative on the Oklahoma Conservative Index this past session. Holt is a darling of the Chamber of Commerce, often pushing the "Crony Capitalist" agenda.
Cole Says Congress Should Take Back War Powers
"Presidents have been able to go to war anytime, anywhere," Oklahoma Congressman Tom Cole said in an interview this week with Justin Wingerter of the Oklahoman. "That's dangerous and at odds with the Constitution." In regard to this, Cole has introduced an amendment to the annual Defense bill that "directs the president to provide to Congress a strategy and a budgetary analysis needed to defeat al-Qaeda, the Taliban, the Islamic State of Iraq and ISIS." Cole calls his amendment "as baby step but the right step" for overturning Congress' lethargy on war authorization. "No administration should be able to use the military when and wherever they want."
New State Election Board Service
A new service launched in June will allow voters to sign up for e-mail or text messages reminding them about upcoming elections in their county, Oklahoma State Election Board Secretary Paul Ziriax. The GovDelivery service will also let voters sign up for reminders to renew their annual absentee ballot requests, receive press releases and get a digest of the agency's official Twitter feed. To sign up, voters can visit the Oklahoma State Election Board's website. An overlay will pop up allowing website visitors to sign up for the service. Voters can also sign up via a permanent request box on the site's home page.
Subscribers can choose to receive e-mail or text alerts. To get election reminders, a voter will also need to list their county of residence. A few days before each election, an alert will be sent to subscribers in any county that is having an election. The alert will include links to the board's upcoming elections web page, where they can view the elections taking place in their county, and to the Online Voter Tool, which will allow the voter to see a sample ballot if they are eligible to vote in the election. "Along with the Online Voter Tool and the online absentee ballot request form, this service makes it easier than ever to make sure your vote gets cast and counted on Election Day,"Ziriax said. To sign up for notifications from the Oklahoma State Election Board or for any other information about Oklahoma elections, visit: www.elections.ok.gov
2017 OCPA Liberty Gala Speaker
Dennis Prager will be the keynote speaker at Oklahoma Council of Public Affairs (OCPA) 2017 Liberty Gala in Tulsa on Thursday, October 19. The event will be held at the Renaissance Hotel and Convention Center. Prager is a conservative talk show host and founder of PragerU. He hosts one of America's most respected conservative talk shows, The Dennis Prager Show, and is a syndicated columnist, author, film producer, and conductor. He has been featured on Fox and Friends, Hannity, The Today Show, and in The Wall Street Journal. Prager also co-founded PragerU, which produces 5-minute videos to spread conservative principles about political science, economics, and history. For more information, contact OCPA at: ocpathink.org
Byas Speaks on Our Michelle Obama Legislature
In an expansion of his column, "Our Michelle Obama Legislature," found in this issue, Oklahoma Constitution Editor Steve Byas is slated to speak to the Konawa Tea Party on August 22. The meeting will begin at 7 p.m., and is located at 701 W. South Street in Konawa. Byas is available to deliver this talk to other groups, which covers why we have come to this dismal point, and what we can do about it. If you would like to have Byas speak to your group on this topic, give him a call at (405) 366-1125.