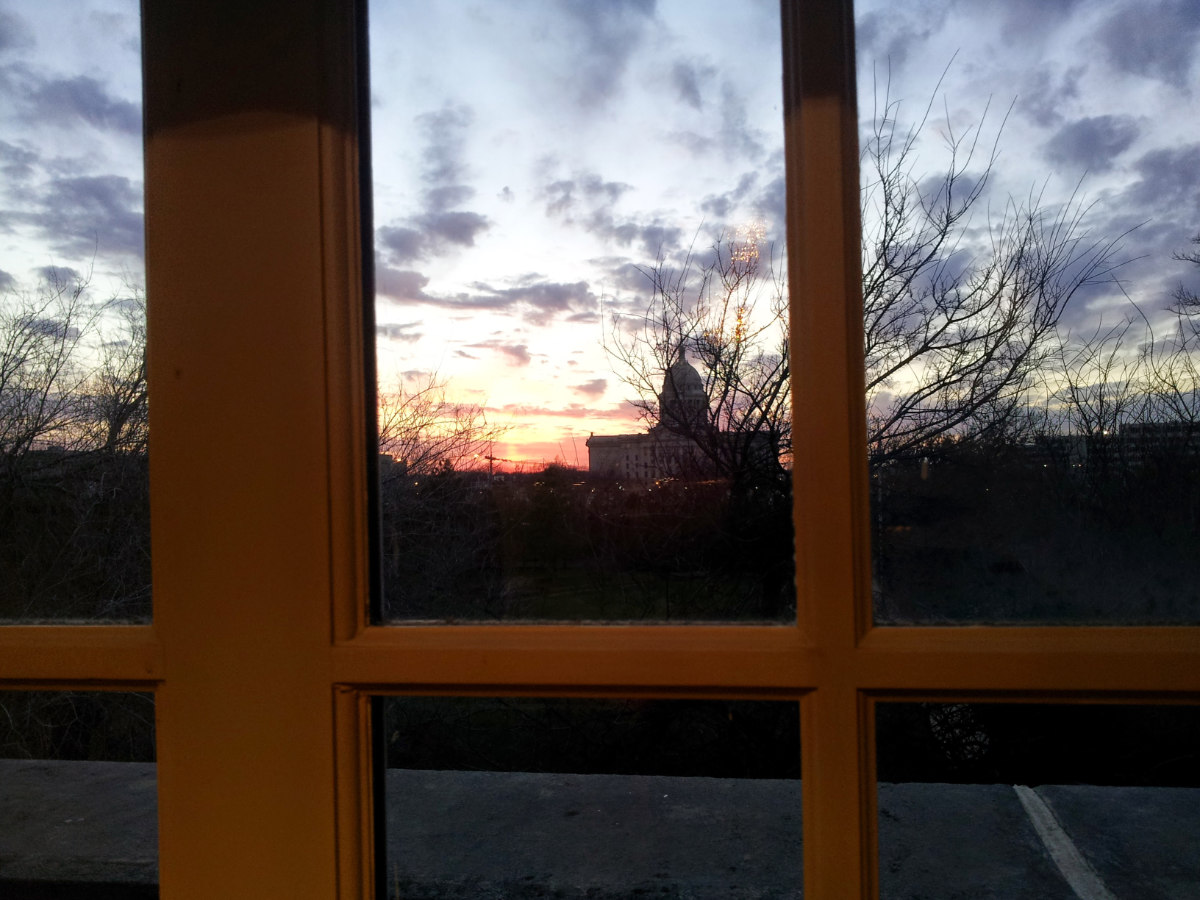 column
THE FEDERAL PAGE for Summer 2017
Did, Indeed, Not Tell the Truth
In the spring issue I wrote that Second District Congressman Markwayne Mullin was headed toward breaking his three-terms limit pledge. Well, he has broken it. In 2000 I was working in the office of Congressman Kevin Brady of Texas answering constituents' mail. Two women in the office were talking about Congressman George Nethercutt of Washington state whose office was down the hall. The women agreed that Congressman Nethercutt should not have to abide by his 1994 election pledge to serve only three terms. He broke that promise and, unfortunately, was reelected in 2000 and reelected in 2002. In 2004 he ran for the Senate and lost to incumbent Patty Murray.
Washington D.C. doesn't respect term limits and thinks they are dumb, and when a politician breaks a term limit pledge, it's no big deal. Over the July 4th holiday weekend, Congressman and Deputy House Whip Mullin announced he would seek a fourth term although when he ran the first time, he promised the voters he would not do that. Senator James M. Inhofe doesn't think it's any big deal. Jim Inhofe, now 81, has been in elected offices for 47 of my 49 years. And he previously held an office before I was born. Former Senator and Second District Congressman Tom Coburn DOES think it's a big deal and says he will support the most viable candidate to oppose Markwayne next year.
Currently, there are two Republicans seeking to take the nomination away from Markwayne, and they are both named Jackson. Brian Jackson is an associate professor of accounting and economics at my alma mater, Northeastern State University in Tahlequah, and the other is former Army ranger Jarrin Jackson, who ran against Markwayne in 2016. One of these Jacksons should bow out and support the other.
Repeal of WOTUS
Here is some important news about agriculture and private property rights. On February 28 President Trump by executive order repealed the Waters of the United States (WOTUS) rule in the Clean Water Act.
WOTUS was an Obama regulation that gave the Environmental Protection Agency (EPA) authority over property within 1,500 feet from all waterways that could drain into a navigable body of water. According to Tom Buchanan, president of the Oklahoma Farm Bureau, WOTUS was "federal overreach and unneeded." Before the repeal of WOTUS the EPA could send a clipboard carrying bureaucrat to your house to regulate or forbid use of a pesticide that you purchased because the EPA deems that pesticide is dangerous to the water supply if you live within 1,500 feet of a waterway. Moreover, construction projects could be hampered because the EPA could use WOTUS to regulate or forbid new building projects. The 1,500 feet rule will remain in place, but only for navigable waters rather than for all streams, ponds, puddles, etc.
Trump First 100 Days in Office
On April 29, President Trump bypassed the White House correspondents' dinner in Washington to celebrate his first 100 days in office by holding a rally in Harrisburg, Pennsylvania. It was a political masterstroke. While the news networks were covering his rally, C-Span was left with the unenviable task of covering the press dinner headlined by a Muslim comedian. The press hates Trump, and Trump hates the press. Working class Pennsylvanians are his people. After all, they helped elect him, and he knows it. While this was just one Saturday evening, it's a sign that this president is different from past presidents who played along with the Washington media game.
Trump Pulls U.S. Out of Paris Accords
In a move that infuriated the left-wing and global establishment, President Trump at the White House Rose Garden on June 2 ordered the United States out of the Paris Climate Accords. The treaty was signed by President Obama in Paris in 2015. Citing the terms of the agreement he deems unfair to American workers, President Trump said the U.S. would withdraw from the treaty, but be willing to re-negotiate re-entry at a later date should the U.S. have a better deal. Senator Inhofe was with former Oklahoma Attorney General, now EPA Commissioner, Scott Pruitt, in the Rose Garden ceremony. The so-called "climate change crisis" is a red herring to empower global government. Plus, it won't change the climate. We will simply lose our freedoms to a world elite. By pulling the U.S. out, President Trump is looking out for American interests. We are a cleaner country than most. Why should we be hamstrung by global elites? Should there be a "better deal," let's hope it ensures American sovereignty.
House Passes Kate's Law and Cracks Down on Sanctuary Cities
On June 29 the House passed two strong immigration bills: H.R. 3004 and H.R. 3003.
H.R. 3004, also known as Kate's Law, by Congressman Bob Goodlatte of Virginia, passed the House by a vote of 257 to 167 with one Republican, Justin Amash of Michigan, voting no. All five Oklahoma House members voted for Kate's Law, and 24 Democrats joined Republicans in passing this bill. Kate's Law is named after Kate Steinle, a 32-year-old woman who was shot and killed in San Francisco on July 1, 2015 by Juan Francisco Lopez Sanchez, a Mexican national who had been previously deported five times. This bill lengthens incarceration periods for illegal aliens who reenter the country or who commit crimes while here. This could be an effective way to discourage illegals from reentry into the United States. On July 10, Kate's Law (currently a bill) was received in the Senate and needs to become law.
San Francisco, where Ms. Steinle was murdered, is a sanctuary city, i.e. a place where local law enforcement is prevented from cooperating with federal law enforcement in the detention and deportation of illegal aliens residing there. There are around 300 such communities in the United States.
H.R. 3003, also known as No Sanctuary for Criminals Act, also by Congressman Bob Goodlatte, would curb federal funding to cities and communities that have a sanctuary policy. It passed the House on June 29 by a narrower vote than Kate's Law. The vote was 228 to 195. The Oklahoma delegation supported the bill. Michigan's Justin Amash was joined by six other Republicans in opposing it; three Democrats joined Republicans in passage. The bill now goes to the Senate. Senators Inhofe and Lankford will vote for it, and they need to persuade their colleagues to vote for it.
The Gay Lobby Defeats Common Sense and Taxpayers
One of the most odious policies of the Obama era is sex change surgeries for active military members. These surgeries are paid for by your tax dollars. Anyone who can't decide what his or her gender is, is dealing with psychological issues and should not be in the armed forces. The most infamous member of the military to have a sex change surgery was Army soldier Bradley Manning from Crescent, Oklahoma. Manning was convicted in a 2013 court martial of espionage and was sentenced to 35 years in military prison. He – he's still a he even though he's had that surgery – had leaked 750,000 classified military documents to the media. President Obama commuted his sentence late last year.
There was an amendment to the National Defense Authorization Act by Congresswoman Vicky Hartzler of Missouri that would have denied taxpayers' funds for sex change surgeries in the military. It was defeated on July 13 by a vote of 209 to 214. Twenty-four Republicans joined Democrats in blocking this common sense amendment. No Democrats voted for it. All five Oklahoma House members voted for the Hartzler amendment.
"I was elected by the citizens of Pittsburgh, not Paris."
– President Trump on withdrawal of the United States from the Paris Climate Change Accords on June 2.