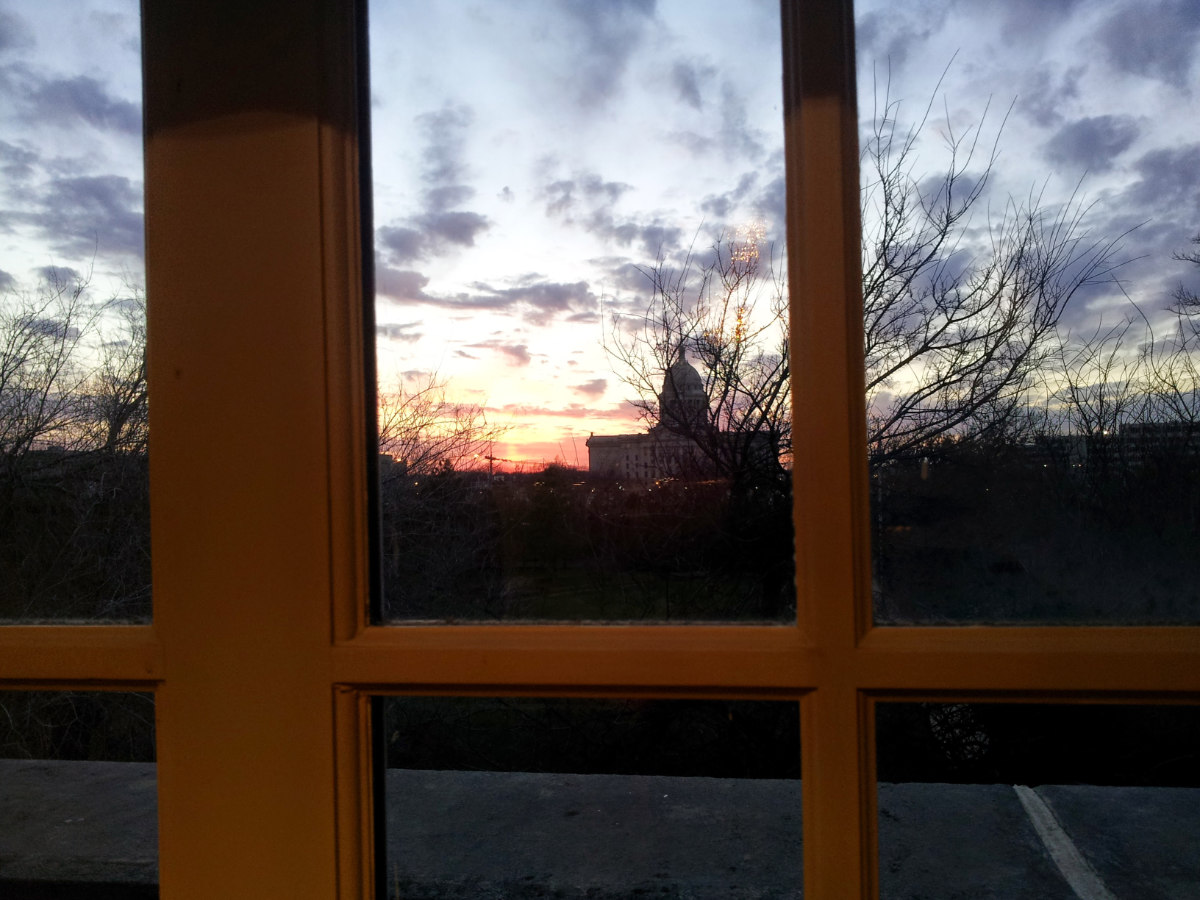 column
The Federal Page for Summer 2019
Equality Act of 2019
Elections have consequences. The midterms last fall brought Democrats into control of the House and their hard-left legislation that, however, can be stopped because the Republicans have control of the Senate. Don't expect any good legislation, not even for a dime for border funding, from the House. Of course, when Paul Ryan was Speaker of the House, President Trump didn't get a dime for the wall from him either.
H.R. 5, the Equality Act of 2019, by Democrat Congressman David Cicilline of Rhode Island, would extend civil rights protections for sexual orientation and gender identity. Federal protections for race, creed, gender, etc. would be extended to include homosexuals and transgenders. Under this proposed law, a man who identifies as a woman, or a woman who identifies as a man, must be regarded as they prefer by any business or institution, and if not so regarded, the business or institution would have to deal with the Justice Department. Democrat Congresswoman Kendra Horn of Oklahoma District 5 voted for this of which she was a co-sponsor.
On May 17th, the House passed H.R. 5 by a vote of 236 to 173. Eight Republicans joined the Democrats in passing this bill. Sadder, is the fact that twice as many Republicans (16) didn't vote at all. With the exception of Congresswoman Horn, the Oklahoma delegation voted no.
Three days later, H.R. 5 went to the Senate where it was assigned to the Judiciary Committee, and under a Republican controlled Senate, there it will stay.
The "Dreamers" Act
A big immigration vote came up in the House, and two of our delegation were AWOL. On June 4th, the House passed a bill that would recognize millions of illegal immigrants in the United States with a green card and a pathway to citizenship. H.R. 6, American Dream and Promise Act of 2019, by Democrat Congresswoman Lucille Roybal-Allard of California, passed the House by a vote of 237 to 187. Congresswoman Horn voted in favor of this bill. Seven Republicans voted with the Democrats, and nine Republicans did not vote. Interestingly, two of those nine are members of our own delegation: First Distrct freshman Kevin Hern and Second District Congressman Markwayne Mullin. Both men's absence is curious. Prior to his election, Kevin Hern owned Tulsa area McDonald's restaurants, and Markwayne Mullin a successful plumbing company.
This bill would reward those who illegally crossed into the country. There are some who believe this is a practical thing to do as there are so many of them here we can't send them all back. However, this legislation must not become law so long as we have a porous border, and official Washington is loath to secure it over the wishes of the White House. There should be no pass for the "Dreamers."
Resolution Condemning President Trump
On July 16th, by a vote of 240 to 187 the House passed H. Res. 489 titled "Condemning President Trump's Racist Comments Directed at Members of Congress."
On July 14th, President Trump tweeted that four radical House Democrats should go back to their countries of origin and fix things there before lecturing Americans on our deficiencies. Only one of the four is foreign born. President Trump was responding to comments made by a Minnesota congresswoman at the far-Left Net Roots Convention in which the congresswoman decried what she considers American hypocrisy. I won't even mention the Somalia born congresswoman from Minnesota by name because her presence in Congress is offensive to me. She is a Muslim who questions Americans' loyalty for supporting the Jewish state of Israel. Her comments were condemned earlier this year, but not by her name. This same woman spoke to the Council of Islamic Affairs (CAIR) earlier this year in which she said that CAIR was created because: "On September 11th some people did something." She has made statements of sympathy toward Muslim jihadits who would kill us all if they have the chance. And she told Al Jazeera television that it is white men, not Islamic radicals, of whom the government should be wary. I believe her to be a domestic enemy of this country. Later in the day of the vote condemning President Trump, she chaired the House chamber from the Speaker's chair!!
Congresswoman Kendra Horn was the only one of the Oklahoma delegation who voted for the resolution of which she was a co-sponsor.
These are the four RINOs who voted for this resolution: Susan Brooks of Indiana, Will Hurd of Texas, Fred Upton of Michigan, and Brian Fitzpatrick of Pennsylvania. Fred Upton did not vote for the "Equality" Act, but did vote for the "Dreamers" Act. Susan Brooks voted for the "Equality" Act, but not the "Dreamers." Congressmen Hurd and Fitzpatrick are consistent RINOs, but Congressman Fitzpatrick is the biggest RINO of them all as you will read in the minimum wage vote. All four need to go!
On a local note, in a swipe at President Trump, Oklahoma City Mayor David Holt tweeted on July 14th that immigrants are welcome in Oklahoma City. Mayor Holt, a former Republican state senator, wanted to take a personal swipe at President Trump. In June, he came out in favor of the homosexual agenda. Don't be surprised if he endorses Kendra Horn for re-election next year.
Mimimum Wage
On July 18th, the House passed H.R. 582, the Raise the Wage Act, by Congressman Bobby Scott, a Democrat of Virginia. The vote was 231 to 199. Surprisingly, Democrat Congresswoman Kendra Horn voted with the rest of the Oklahoma delegation in opposing it. Congressmen Kevin Hern and Markwayne Mullin, who missed the "Dreamers" vote, were there to vote against the minimum wage hike. There were five other Democrats along with Congresswoman Horn who voted no. Three Republicans who voted yes are Congressman Fitzpatrick of Pennsylvania, who was joined by Congressman Chris Smith of New Jersey, and Congressman Francis Rooney of Florida, a Tulsa transplant who was the American Ambassador to the Vatican under George W. Bush and is the owner of Manhattan Construction Company.
H.R. 582 would increase the minimum wage from the current $7.25 an hour to $15 in the year 2025. It would also eliminate the tipping wage that wait staff in restaurants earn, which is lower than the required minimum wage of $7.25 an hour. H.R. 582 is now in the Senate where it will die in committee.
Another Budget Buster – a Bi-partisan Evil
The Congress and the White House have worked out a new budget for the next fiscal year, which will increase the debt ceiling by 320 billion dollars for a two-year extension of the debt ceiling, as our national debt approaches 23 TRILLION dollars! Waste and fraud and scaling back on social services are just too hard to do. The political class knows that to address these issues with fiscal restraint would unleash the wrath of the media that would accuse them as cruel and uncaring, but it is cruel and uncaring to saddle debt upon the American people. Dallas billionaire Ross Perot died on July 9th. He had just turned 89. He was not what we would consider a conservative, but a quarter century ago he awakened the American people to the reality that the debt was a problem before they went back to sleep.
The Berlin Airlift
Seventy years ago, American and British forces took to the skies over Berlin to save rather than bomb the recently vanquished people there. The Berlin Airlift was called by the Americans with a charmingly dated name, "Operation Vittles" (food). The purpose behind the airlift was to aid the needy, preserve freedom, and defeat totalitarianism.
It is important to note that Berlin was 110 miles from the West German border, well within Soviet controlled East Germany. Right after the war, Berlin was cut up into four sections among the Americans, the British, the French, and the Soviets. The Cold War between the West and the Soviet Union was well underway. Western plans to create a democratic German state in the West with its own currency were planned.
In June 1948, Soviet leader Joseph Stalin ordered all rail and road lines bwtween the West and Berlin closed. There was no apparent way to bring in suppplies. So a plan was hatched – supplies would be flown in. Before the blockade, there was an agreement between the occupying powers that air travel would be allowed from the west of Germany to the two airports in West Berlin (American, British, and French sections) and seaplanes at Lake Havel, also in West Berlin. Day and night, from June 24, 1948 to May 12, 1949 flights bringing in supplies to the beseighed city flew into West Berlin. A plane would land almost every minute bringing essentials. One Berliner joked the Americans were so good at bombing the city during the war that they should be able to bring food. The Soviets couldn't stop it because to do so would be war, a war they were at the time ill prepared to fight. They did harrass the airlift by flying above the planes and buzzing them, but they could do no more. Meanwhile the western nations embargoed goods going to the Soviet Union in retaliation for the blockade.
The Berlin Airlift was one of those rare events in history that were romantic. It even included an American pilot dropping candy from his plane with little parachutes for the children, and a Christmas show with Bob Hope and Irving Berlin, who went by the last name Jones; he didn't want to get cut up four ways with a last name like that. By May, Joseph Stalin knew he'd been defeated, and he ordered the roads and rail lines to Berlin re-opened. The airlift was over, and the people in West Berlin were saved and grateful to the West for what it had done. The good guys won. Every American should be proud.
"All free men, wherever they may live, are citizens of Berlin, and, therefore, as a free man, I take pride in the words 'Ich bin ein Berliner'"
– President John F. Kennedy, June 26, 1963 in Berlin.
Theodore J. King is an Oklahoma native. He spent the summer of 1994 at the Republican National Committee, worked at the National Right to Work Committee, and on the Hill in Washington D.C. In 1999 he worked for Congressman Kevin Brady of Texas and later at the Media Research Center in Alexandria, Virginia. He served as our Washington D.C. correspondent beginning in 2001and continues since his return to Oklahoma. He also writes online for The Daily Caller (www.dailycaller.com) and is the author of The War on Smokers and the Rise of the Nanny State.