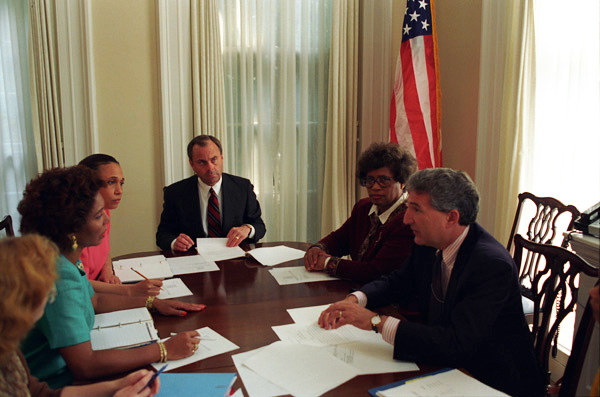 Pictured: Chief of Staff Thomas "Mack" McLarty meeting with President William J. Clinton's nominee for Surgeon General, Jocelyn Elders.
reports
Oklahoma Natural Gas Overcharges Tied to Clinton White House
On April 11, 2001, the Commission voted to require two ONG gas suppliers to provide records to determine if ONG customers are paying more than other customers of the ONG suppliers. ONG is owned by ONEOK Inc. and has supply contracts from the two companies which are also owned by ONEOK. Under the pass through regulations, ONG claims that it is not responsible for the price of the gas, but only for the transmission costs it adds to the supplier price. ONG is required to use "least-cost" procurement practices to obtain contracts. The Commission ruling was supported by Commissioners Bob Anthony and Denise Bode, but dissented by Commissioner Ed Apple. ONEOK is challenging the Commission order. In the case of the contract with Dynamic Energy Resources, which is not involved in this order, it has been charged that ONG is passing on above market prices to its customers.
Dynamic Energy Resources was created by Nora and Gene Kung Ho Lum, formerly of Hawaii, after President Clinton took office in early 1993. The Lums reportedly had no prior experience in the oil and gas business. They sought out Tulsa oilman Stuart Price, a Democrat congressional candidate for Oklahoma's first district and a Clinton fundraiser, to became a director in the firm. The uncle of Price's wifes, Senator George Mitchell (D-Maine), was Majority Leader of the U.S. Senate at the time. The Lums gave Michael Brown, son of Ron Brown, a five percent share in the company and a seat on the board.
Also placed on the board was Helen Yee. Yee's daughter, Melinda Yee, was Ron Brown's personal assistant at the Commerce Department. Melinda Yee had worked for Brown when he was head of the Democratic National Committee during the 1992 elections. At the Commerce Department, Yee handled arrangements for several foreign trade missions involving large Democratic Party contributors. Yee had also worked with the Lums during the 1992 election campaign. The Lum's daughter, Trisha, worked for Ron Brown at the Commerce Department.
At the time that the contract was being negotiated with ONG, Dynamic Energy Resources reportedly had few assets, and no gas reserves. Yet, ONG was negotiating a deal to pay above market prices to Dynamic Energy Resources in a contract that would make Dynamic Energy one of ONG's largest suppliers of gas.
In April 1998, Michael Edward McAdams (a former vice president of GAGE Corporation) and John Powell Walker would file a petition with the Oklahoma Corporation Commission. The plaintiffs charged that ONG customers will pay as much as $65 million in overcharges under ONG's 10-year contract with Dynamic Energy Resources. On December 23, 1999, Connie Moore, an administrative law judge at the Commission, granted the plaintiff's request to have top ONG officials submit to depositions. The company's appeal was heard at a January 12, 2000 hearing. A February 2000 order (signed by Commissioners Bob Anthony and Denise Bode, but dissented by Commissioner Ed Apple) gave ONG 45 days to comply with the request for depositions. After ONG failed to comply with its February order, the Commission issued a new order on April 5, 2000 for ONG to comply. This order was again supported by Commissioners Anthony and Bode, but again dissented by Commissioner Apple. The depositions were finally conducted during 2000 and the Oklahoma Constitution obtained copies under the Open Records Act.
Last year, the Oklahoma Constitution asked ONG spokesman Don Sherry who made the initial contact which resulted in the contract with Dynamic Energy Resources, Sherry responded that "Nora Lum came to us." This was later verified by the deposition of Stephan Guy, an ONG vice president who was involved in the negotiation of the contract. According to Guy, "We had received a phone call from Nora Lum introducing herself and saying that she had some kind of interest in GAGE and wanted to know if she could meet with us and discuss trying to settle all the disputes associated with the GAGE/Creek contract."
Dynamic Energy Resources represented itself as the prospective owners of GAGE Corporation (Golden Arrow Gas Energy) and its subsidiary Creek Systems. GAGE and its Creek Systems had been in a long-running legal battle with ONG concerning a major gas purchase contract. John Tisdale was the attorney representing Dynamic Energy Resources for the contract with ONG. He was the law partner of Clinton confidant Bruce Lindsey who worked for Clinton when he was governor of Arkansas and became White House counsel for President Clinton. Tisdale was the Clinton's personal attorney for matters in Arkansas. During negotiations at the GAGE offices, Tisdale is documented receiving faxes and phone calls from the White House.
On October 2, 1990, Commissioner Bob Anthony made headlines with his public announcement that he had been assisting the FBI in uncovering corruption at the Commission. Utility lobbyist William L. Anderson would later be convicted of bribing Commissioner Bob Hopkins in connection with a case involving Southwestern Bell Telephone. While only Anderson and Commissioner Robert Hopkins were convicted, there were allegations made against the executives of several utilities regulated by the Commission. The Clinton Justice Department did not pursue that evidence. Anderson was also a lobbyist for ONG and had admitted to being on retainer with ONG beginning in 1958 while employed as General Counsel for the Corporation Commission. In December of 1992, ONG filed a suit in the Oklahoma Supreme Court seeking recusal of Commissioner Anthony from ruling on matters involving ONG at the Commission.
In the week prior to Commissioner Anthony's announcement of working with the FBI, Ron Miller, a principal owner of GAGE Corporation, was visited by the FBI. After Anthony's announcement, Miller knew why GAGE came out empty handed in past Commission proceedings to force ONG to comply with the Creek Systems gas purchase contract. In fact, Commissioner Anthony specifically mentioned the Creek Systems case in his announcement.
On December 4, 1992, GAGE (Creek Systems) filed a motion requesting the Commission to investigate the allegations of Commissioner Anthony as they related to dismissal of its first filing against ONG. GAGE had also filed a lawsuit in district court on October 30, 1992 against William Anderson alleging improper communications with one or more Corporation Commissioners involving the Creek System petitions before the Commission. Miller vowed to "vigorously pursue those who directed the conduct of Mr. Anderson." The case was dismissed, but GAGE appealed to the Tenth Circuit Court.
In a trial brief to the Oklahoma Supreme Court on September 29, 1993, GAGE alleged corrupt and criminal activities involving ONG and William Anderson concerning Creek System's proceedings at the Commission. Miller planned to show a pattern of corruption at the Commission, including evidence of illegal activities of utility companies other than ONG.
It has been alleged that Thomas F. "Mack" McLarty was involved in discussions with ONG concerning the GAGE lawsuit against William Anderson. McLarty was Chairman of ARKLA (Arkansas Louisiana Gas Company which has since been purchased by Relient Energy) which had gas interests in Oklahoma and also used Anderson (since 1969) to represent it in matters before the Commission.
Commissioner Anthony received covert payments from ARKLA senior executives at the same time that ARKLA had multi-million dollar rate cases before the Commission. Anthony says, "At the time that five or six Arkla officers or attorneys illegally gave me cash and checks and we discussed the illegal nature of the transaction, Mack McLarty was chairman of the board and chief executive officer of Arkla." Although McLarty was not directly implicated in the transactions, Anthony notes that "Even if Mack McLarty did not personally participate in or did not personally know of the illegal conduct of his senior officers, it certainly would have been a skeleton in his closet, and so he had a great motive to do damage control."
A friend of Bill Clinton since kindergarten, McLarty was Treasurer of the 1992 Clinton Presidential campaign, and served as the President's Chief of Staff in the White House until June 1994, when he became Clinton's Counselor on political and legislative matters. The testimony by Nolanda Butler Hill at the recent Oklahoma Corporation Commission hearing confirms the involvement of McLarty with the Dynamic Energy Resources contract: "I learned several years ago, through my association with the late Ronald H. Brown, former Chairman of the Democratic National Committee and Secretary of Commerce, about the involvement of a highly placed Clinton Administration Official, Mack McLarty, in what became an egregious financial transaction centered around the supplying of gas to ONG. It is this information that I bring to the Commission with my appearance today."
According to FBI documents, and a report prepared for the U.S. House of Representatives Committee on Government Reform and Oversight, the Lums began working on the deal involving GAGE/Creek Systems and ONG in the fall of 1992. Hill revealed her knowledge of the events: "My initial exposure to the GAGE matter transpired in the early Spring of 1993. Then Secretary of Commerce Brown arranged with me to pick me up at my office following his lunch meeting at the White House with First Lady Hillary Rodham Clinton. I remember distinctly the instance because Secretary Brown's first reaction upon my getting into his chauffeured car was that I was wearing the identical suit that the First Lady had been wearing at his private lunch earlier in the day.
Secretary Brown was enthusiastic about his meeting with the First Lady. It was the first time the two of them had spent significant time alone. They dined on the balcony upstairs at the White House and, according to Secretary Brown, she expressed appreciation of his efforts to get her husband elected. She also acknowledged his efforts toward resolution of Mack McLarty's problem in Oklahoma.
I questioned Secretary Brown as to this matter, and he briefly described a problem concerning a small gas company, GAGE, with which Mr. McLarty had some association."
Hill also noted a later event in the deal. "My next exposure to the Oklahoma/GAGE matter was in early November, 1993. Secretary Brown often came to an apartment at 2400 Pennsylvania Avenue in Washington, D.C., maintained by the company of which I was president, to make non-governmental phone calls. In this instance, Secretary Brown placed a call to Mr. McLarty's office where he initially spoke to Mr. McLarty's assistant, Patty McHugh. Ms. McHugh had been Secretary Brown's assistant at the Democratic National Committee. After brief family oriented chit-chat, Secretary Brown asked to speak to Mr. McLarty.
As I listened to Mr. Brown's end of the conversation, I became very concerned. Secretary Brown talked of a glitch in the timing of the GAGE deal and the need for bridge financing to keep the deal from falling apart.
After Secretary Brown hung up the phone, I questioned the propriety of what he was doing and inquired as to why he had not solicited my help in arranging any needed financial assistance so as to keep even any appearance of impropriety at bay. This was especially important, I believed, because Secretary Brown was under investigation by a federal grand Jury in Dade County, Florida for alleged improprieties concerning Vietnamese trade status. Secretary Brown was terse in his response, indicating that the GAGE deal was something in which Mr. McLarty was already involved."
Proceedings before the Oklahoma Supreme Court were scheduled to begin on November 10, 1993. GAGE's attorneys planned to examine witnesses concerning Commissioner Anthony's tape recordings, and William Anderson's indictment by the U.S. Department of Justice. Because ONG insisted that Dynamic Energy have control of GAGE before the deal was signed, it was necessary to obtain interim financing for the down payment to GAGE.
On the afternoon of November 9, 1993, a wire transfer (believed to have originated in Arkansas) of $4,582,111 was credited to the Dynamic Energy Resources account in State Bank of Tulsa, and was immediately wired to GAGE's account at Republic Bank in Norman. It has been alleged that the financing came from Llama Capital Corporation, headquartered in Fayetteville, Arkansas. The commercial banking firm was formed by Alice Walton, daughter of Wal-Mart founder Sam Walton. At the time, Hillary Clinton was a member of the Wal-Mart board of directors. The Dynamic Energy Resources offices were located in the State Bank of Tulsa (502 W. Main Mall) building. State Bank had been purchased in 1991 by what is now called Arvest Bank Group, a Walton company.
In approximately contemporaneous events on November 9, 1993, Dynamic Energy Resources formally acquired the assets of GAGE Corporation and its Creek Systems subsidiary and dropped the GAGE lawsuit against William Anderson. Dynamic Energy Resources was granted a lucrative 10-year contract to sell gas to ONG at above spot market prices. The same day, Dynamic Energy Resources sold half of its new contract to Associated Natural Gas Incorporated (now Duke Energy) for $7.2 million, and a few months later sold GAGE compressors to them for another $1.2 million. In March 1994, Dynamic Energy sold the remaining half of the ONG contract to Enogex (an affiliate of OG&E) for $11.25 million. Dynamic had agreed to pay GAGE less than $10 million for the purchase of its assets, but stopped payments after two years and filed for bankruptcy protection.
Years later, it would be learned that the Lums were involved in illegal Democratic Party fund-raising both before and after the formation of Dynamic Energy Resources. In September of 1997, the Lums, were each sentenced to 10 months in confinement and assessed $30,000 in fines for some of those activities.
After their case was settled, it was discovered that the Lums were involved in more substantial illegal fund-raising practices, leading some to charge that the Clinton Justice Department settled the case early to prevent more damaging revelations. It would also be discovered that the Justice Department had been investigating the activities of the Lums while they were still in Hawaii, before moving to California in 1992 and later to Tulsa. But, the investigation was halted in 1993 while Hillary Clinton's former law partner, Webster Hubbell, was the No. 3 man at the Justice Department. Congressional investigators say the Lums were helped by Hubbell.
In August of 1998, Gene Kung Ho Lum pleaded guilty to federal tax charges, admitting that he falsely claimed more than $7.1 million in tax deductions on his 1994 return. In June of 1999, Lum was sentenced to 24 months in prison for violating federal tax laws and evading nearly $3 million in taxes.
John Huang, a former Democratic National Committee (DNC) executive who was the focus of probes by the Justice Department and Congress, raised political funds with the Lums in 1992 through a DNC affiliate called the Asian Pacific Advisory Council. APAC would later become a much larger Asian-American fund-raising arm for Clinton and the DNC. Nora Lum is recorded as visiting the White House at least 18 times during Clinton's first term. Huang, who went to work in the Commerce Department, pleaded guilty to campaign finance violations and has been cooperating with the prosecutors since August 1999.
The Lums and Huang were also associated with Indonesian businessman James Riady, a member of the family that runs the global conglomerate the Lippo Group. The Riadys are foreign nationals residing in Indonesia. John Huang was the Riady family's facilitator for contributions as well as political matters and served as a senior executive with the Lippo Group. While in Little Rock, the Riadys met then-Governor Clinton and formed a friendship lasting through Clinton's presidency. The Riadys not only were friends, but also financially supported Clinton's gubernatorial campaigns throughout the 1980s. They were also active participants in the 1992 and 1996 campaigns. On March 19, 2001, Riady pleaded guilty to making illegal foreign campaign contributions to the 1992 Clinton Presidential campaign and was assessed $8.6 million in fines. The fines are the largest in the history of the United States.
Ron Brown died in a plane crash in the Balkans on April 3, 1996. Months before his death, Brown hired Criminal Attorney Reid Weingarten to defend him from various probes into his financial dealings which included Dynamic Energy Resources. Weingarten, a former high official in the Justice Department, flew to Tulsa with Michael Brown to look at records held by Dynamic Energy Resources. According to Stuart Price, who was present during the examination of the records, Weingarten expressed surprise that certain records were being retained. Price, who had a falling out with the Lums and was ousted from the company, testified that after Weingarten left, the records in question were destroyed.
GAGE's former vice president, Michael McAdams, who was hired as a consultant to Dynamic Energy Resources, says there is no question that Ron Brown and the White House were involved: "It was confirmed to me verbally from the first time I met the Lums by the Lums, and Stuart Price, that Nora worked directly for Ron Brown. This conviction was also confirmed to me by the phone calls I personally took or overheard, while I was working in Dynamic's offices in Tulsa. Such phone calls were from prominent people attached to the White House or Ron Brown; calls from Melinda Yee (calling for Ron Brown to talk to Nora), Michael Brown, George Stephanopolous (calling for Stuart). Also, I was aware of trips being taken by Stuart and the Lum's to Washington D.C. during and after the sale of the company."
As the criminal investigations into Brown's activities moved closer, Brown signaled an interest in making a deal with prosecutors. Brown reportedly told associates that he was not going to take the rap for the Clintons and informed the President as such in a White House meeting a few weeks prior to the ill-fated plane trip. Four days before the plane crash, the Justice Department subpoenaed nearly 20 witnesses to testify to a Washington Grand Jury concerning Brown's involvement with Dynamic Energy Resources. Following Brown's death, the Independent Counsel's investigation was placed on hold.
The Air Force jet which carried Brown and his bodyguard, Duane Christian, went down with 33 others traveling on a Commerce Department trade mission. There were no survivors. Even though an Air Force forensic pathologist disclosed that an unusual circular wound at the top of Brown's head could have been a bullet hole, the military investigators did not order an autopsy of Brown's body. A Commerce Department internal security report completed in March of 1999 revealed that Christian's gun was not recovered from the crash scene.
The plane which carried Ron Brown was the number two plane in the presidential fleet. Only the week before, it carried Hillary and Chelsea Clinton on an overseas trip. It is the only one of 17 specially fitted Boeing 43A military aircraft to crash in 20 years of service. Although there were several news accounts of the black boxes (flight data recorders) being found at the crash scene, the Pentagon later stated that there were no black boxes aboard, and attributed the stories to the recovery of boxes which held soda pop and toilet paper. Other aircraft in the fleet are equipped with black boxes.
Former Oklahoma Governor David Walters (who served from 1991-1995) was slated to be on the plane trip. The former governor begged Brown for a slot on the mission to advance his newly formed Walters Power International which was seeking to build electric power plants in third-world countries. Fortunately for Walters, he had to forego the trip at the last minute to attend a funeral of a close relative, where he delivered the eulogy.
After the sale of GAGE Corporation, Ron Miller aided news reporters and government authorities in the investigation of the Lums and was providing information to the congressional Government Reform and Oversight Committee investigating illegal fund-raising. Miller made 165 tape-recordings of his conversations with the Lums and their associates. Miller turned that information over to the FBI on August 5, 1997, and was interviewed by the congressional committee staff on August 12. On September 2, the committee subpoenaed documents from Miller concerning Ron Brown, the Lums, and Dynamic Energy Resources.
On September 5, the congressional committee deposed McLarty. He was asked about ARKLA lobbyist Bill Anderson, but McLarty's lawyers diverted questioning. McLarty denied knowing the Lums, but knew of Dynamic Energy Resources. He admitted that Ron Brown had discussed Michael Brown being on the Board. McLarty did not recall meeting the Lums, but it is documented that he had breakfast with them at an Asian Pacific Advisory Council meeting in Seattle, Washington on Nov. 15, 1993, five days after closing the ONG/GAGE/Dynamic Energy transaction in Oklahoma. He said that he didn't know Tisdale represented Dynamic Energy in the deal.
On September 12, interviews with Ron Miller and Commissioner Anthony were broadcast on a segment of the PBS Frontline television series entitled "Follow the Money." The congressional committee was scheduled to begin its formal proceedings on October 8.
On October 3, 1997, Miller, 58, was admitted to the hospital with an unknown illness. He died nine days later. The case was immediately turned over to the State Medical Examiner (ME) because the hospital could not explain the cause of death. The initial paperwork submitted to the ME listed the death as "Under suspicious circumstances."
Sherry Miller, Ron Miller's widow, spoke with the Oklahoma Constitution about her husband's death. She described his health as "excellent" up to the time of his fatal illness. According to Mrs. Miller, Ron Miller had what he thought was a bad cold, then the flu which was so bad that he stayed home from work on a Thursday, then again on Friday. She went out with her daughter on Saturday, but called home to check on Ron.
He was so incoherent on the phone that it alarmed her. She returned home to find him in a condition in which he could not put two words together, so she took him to the emergency room of Norman Regional Hospital on Saturday night. Miller remained at Norman Regional Hospital under the care of Dr. Chris Edge, but his condition worsened and he was moved to Baptist Hospital in Oklahoma City. A "team of doctors" took over his care there on a Wednesday, but it was to no avail. Miller died on Sunday. Although he spent over a week in the hospital, doctors proved unable to diagnose even what illness he had.
Brad Edwards, an investigative reporter for KFOR-TV (channel four) in Oklahoma City, dug into the Dynamic Energy contract story very deeply and became very close to Ron Miller, talking daily at some points. Miller told Edwards repeatedly that he feared for his life. Miller had a expert's grasp of "undercover operations," having been an advisor to Cambodia's Prince Sihanouk during the Vietnam War on undercover operations.
Investigators from the congressional committee came to Oklahoma to interview both Edwards and Miller at channel four's station on East Britton Road in Oklahoma City. Within days of Miller's death, a representative of the committee called and asked Edwards if he needed protection, explaining that they felt they had been followed after leaving the station.
Mike McCarville, host of Oklahoma City KTOK radio's Open Mic Live talk show, met regularly with Miller while investigating the dealings of Dynamic Energy Resources. McCarville told the Oklahoma Constitution, "I first met Ron in 1992. He was a subscriber to The McCarville/Hill Report and had read our coverage of the GAGE/ONG court battles and the Corporation Commission." McCarville says Miller was constantly concerned that he was being followed, and took precautions against being poisoned while dining out.
In September of 1999, McCarville and KTOK obtained documents through an Open Records request from the state Corporation Commission investigation. Those documents reference information from the FBI investigation of the Lums revealing conversations in which the need to eliminate certain individuals who were causing problems was suggested.
Miller reported death threats to the Norman Police Department (NPD) starting in 1992. One phone caller told Miller to "Back off M------ F-----," then hung up. The next morning, the same caller told Miller, "Don't forget what I said." According to police reports obtained by the Oklahoma Constitution, Miller reported a prowler at his residence. The prowler attempted to tamper with his wife's Corvette and his pickup truck. About one month later, Miller reported a prowler early Thanksgiving morning. In his report to the NPD, Miller said, "I am sure that if they really wanted to get me they would not be so obvious. I think it is a plan to create concern more than do harm." Miller reported several more threatening phone calls and an effort to tamper with his wife's car over the next several weeks.
On January 20, 1993, Miller reported that he was followed before and after a meeting with Mike McCarville. Miller left the parking lot at Fifty Penn Place in Oklahoma City at about 4:30 in the afternoon, following a meeting with FBI agent John Hippard. The roads were extremely icy, so he took side roads to a meeting with McCarville. They met in the restaurant at the Desert Oaks Country Club in Midwest City. "Due to the weather," Miller told the NPD, "we were the only people eating at the restaurant that evening. Mike and I walked out of the restaurant together and prepared to leave in our separate cars." After driving about one mile west to a convenience store, Miller went inside for a cup of coffee. "The car I noticed earlier that seemed to be following me pulled into a parking lot across the street from the convenience store and turned out its headlights."
When Miller left the convenience store, the car was still parked across the street. "I got back into my wife's Corvette and proceeded South on Douglas toward the highway. No other cars were on the roads due to the time of night and the weather. As I made the turn onto Douglas going South, the other car's lights came on and stayed one-half mile behind me." After driving west on I-40 to I-35, then heading south to Norman, Miller could see the car was still following him. Once he made it to Norman, Miller exited onto Lindsey Street. The car behind continued to follow him, even when he turned off Lindsey onto McGee. Finally, after Miller turned off of McGee, the "car behind me turned off." It had followed him up to within two blocks of his home.
McCarville confirmed Miller's account to the Oklahoma Constitution. "Ron drove his Vette and told me he had been followed." McCarville said that Miller had noticed the tail after he had left Norman to come to Oklahoma City. McCarville drove away first, and then observed that Miller was being followed. Miller was carrying a 9mm semiautomatic pistol with him. Intimidation efforts were renewed in 1996. Lt. Claude Dill of the Norman police wrote in a report obtained by the Oklahoma Constitution, "Mr. Miller telephoned me and told me the harassment that began in 1992 may have started again. This belief is based on current information and happenings that have taken place within the last month or two."
In the police report Miller wrote that he went to work on a Saturday (May 18, 1996) in the early afternoon. Sitting at his desk, he suddenly heard "a lot of noise" behind him. Turning, Miller saw a white helicopter with blue trim over the street in front of his office. "It was moving closer and lowering at the same time," Miller wrote. "When it finally stopped moving towards my rear window, it's cockpit was facing my window approximately 50 foot from my back glass." Miller wrote that the helicopter "hovered in place" and stayed in that position for over a minute. "After it hovered there, it moved upward and went over the top of the building and then headed towards I-35 North." Miller noted in his report that the craft had to risk power wires and trees in a very dangerous maneuver.
About one month later, Bruce Dirks, a private investigator working for Miller, was given similar treatment. In the mid-afternoon of June 22, 1996 (another Saturday), Dirks was in his back yard when he heard the sound of a helicopter. The helicopter flew near his residence in Oklahoma City, "just barely above the tree line." The helicopter made another appearance a little over ten minutes later. This time, Dirks said in the police report, the craft was "directly over my house. Again, it was flying just above tree top level. Due to the speed at which the craft was flying, there was little warning that was flying over the house." The same helicopter flew over his house two more times in the next hour. Dirks described the helicopter as "white over royal or dark blue. The cabin was egg shaped with a long and very narrow tail section." Dirks' description matches the helicopter seen by Miller in Norman about one month earlier.
Based upon the more detailed description contained in the police report, we have learned the helicopter was most probably an MD500. This model was originally manufactured by Hughes which later sold its helicopter operations to McDonnell Douglas. The aircraft has a maximum range of 380 miles without refueling. The Oklahoma Constitution has received information (which is being investigated for verification) that the helicopter was under government contract for use in conjunction with the upcoming July 1996 Olympics in Atlanta.
Explicit threats started again in early 1997. In a report about an incident on January 12, 1997, Ron Miller told the NPD that he met with a man he identified as Don Sweatman in Ardmore, Oklahoma, "negotiating a multimillion dollar settlement." The next day, Miller met with his attorney and the attorney recommended Miller not accept the settlement in the present form. Sweatman was associated with the Lums in California while they worked with the Asian Pacific Advisory Council in 1992. He was also involved in the purchase of GAGE by Dynamic Energy Resources. There were apparently disputes involving the remaining payments to Miller. According to Oklahoma Constitution sources, Sweatman often referenced conversations with Ron Brown and once told Miller not to worry about the money because "Hillary said that you'll get your money."
Miller called Sweatman on January 13 to reject the settlement. According to the allegations of Miller in the report, Sweatman then told Miller, "You hadn't been shot at yet." The police report states "the subjects he is dealing with have made a number of references to certain people wanting Mr. Miller dead." According to the police report, Miller recorded the conversation.
Individuals who had dealings with Sweatman in California in 1992, say he presented himself as "Bill Clinton's personal representative." Sweatman's wife, Donna, was a close friend of Linda Bloodworth Thomason who, with her husband Harry Thomason, was closely associated with the Clintons. It was the award of the White House travel office contract to a Thomason company that resulted in the "travelgate scandal."
In January of 1998, three months after Miller's death, the Oklahoma Constitution contacted the ME's office. We were told at the time that they were close to issuing a report. Typically, their investigations are completed within six weeks. We again contacted the office later in the month (just before going to press with our WINTER 1998 issue), we were told that they were waiting on the toxicology report and final consultation. The spokesman for the ME, Ray Blakeney, offered that there was no reason to believe that the death was not from "natural causes." They promised to issue their report in a few weeks. However, their official findings were not released until March of 1998.
The ME's report received only sketchy coverage in the general media, with little indication that there was anything amiss. However, as we reported in our SPRING 1998 issue, examination of the report should cause any objective observer to wonder. While the "Manner of Death" was checkmarked as "Natural," the cause of death was listed as "ADULT RESPIRATORY DISTRESS SYNDROME DUE TO UNDETERMINED ETIOLOGY." The "Comment" section of the report was no less conclusive. The text of the comments are as follows:
"COMMENT: The cause of the decedent's pulmonary failure is undetermined. Diffuse alveolar damage is a nonspecific pattern of lung injury which may have a number of different causes. The high numbers of eosinophils in the blood and in the lungs suggests that the disease-producing agent may have been an environmental toxin to which the decedent developed a hypersensitivity. That is, there appears to have been an element of an allergic response involved. Exhaustive toxicologic studies have failed to demonstrate the presence of any known poison/toxin which would account for the disease. However, this does not prove that a toxin was not involved. Similarly, extensive microbiological studies were negative; this does not rule out the involvement of an infectious agent such as an unidentified virus or rickettsia.
The kidney and liver damage observed in this case are also nonspecific, and therefore not particularly helpful in determining the etiology of Mr. Miller's disease. In summary, the ultimate cause of death is believed to be either a rare infectious disease or a rare form of hypersensitivity to a biological agent. Unfortunately, the current state of medical knowledge does not permit us to solve this medical mystery."
While exhaustive toxicologic studies failed to find a "known poison/toxin," poisoning could not be ruled out. The ME's office told the Oklahoma Constitution that Adult Respiratory Distress Syndrome (ARDS) is a rare, super-fast pneumonia. They indicated that this is the same condition that caused the death of Muppet creator Jim Henson a few years before.
In our FALL 1999 issue, we again raised questions concerning the ME's findings. Weeks before, Mike McCarville made an on-the-air plea for the ME to review the case. Also, Stephen Dresch of Hancock, Michigan, quizzed the ME on his findings. Dresch is an investigator for a law firm involved in a case concerning the 1996 plane crash that allegedly killed Ron Brown. On December 15, 1999, the ME relented and changed the "Manner of Death" from "Natural" to "Could not be determined."
Following the change in the autopsy report, we asked if the ARDS diagnosis was unusual. ME spokesman Ray Blakeney told the Oklahoma Constitution that there had been another case, also in 1997. On June 8, 1997, Maxwell Dennis Hames, 41, died under nearly identical circumstances. The headline for the story in the June 11, 1997 edition of the Daily Oklahoman read, Unkown Illness Kills City Officer. The case was referred to the ME. Hames was a Technical Investigator for the Oklahoma City Police Department who received a Special Recognition Certificate for his work at the Alfred P. Murrah federal building following the bombing. The ME listed the "Cause of Death" as "ACUTE PULMONARY EDEMA WITH HYALINE MEMBRANE DISEASE." The "Manner of Death" was listed as "UNKOWN."
Independent medical experts contacted separately by the Oklahoma Constitution and KTOK respectively, suggested airborne Anthrax as the infectious agent in the Miller case. In January 2000, ME spokesman Ray Blakeney told the Oklahoma Constitution that Anthrax was "considered and not a possibility." A source close to the late Ron Miller told the Oklahoma Constitution that he received a cryptic phone call about a week after Miller's death in which the caller said "in this business a virus is just as good as a bullet."
Miller's body was cremated following the autopsy. However, the ME is required to preserve certain tissues and other specimens remaining after testing for a period of three years. When contacted by the Oklahoma Constitution, Cleveland County District Attorney Tim Kuykendall said that he was "intrigued" by the Miller case, and very "suspicious" of the circumstances surrounding his death. "The fact that the Medical Examiner can not say how Miller died is sufficient to raise suspicions," Kuykendall said.
As we prepared to go to press, we contacted Kuykendall again concerning the progress of his investigation. He told us that they have reached a "dead end" because they simply cannot determine a cause of death. In reference to all the connections with the Clinton Administration, Kuykendall made no accusations, but admitted that "There are just too many connections to be coincidental."
Miller's death still remain a mystery.